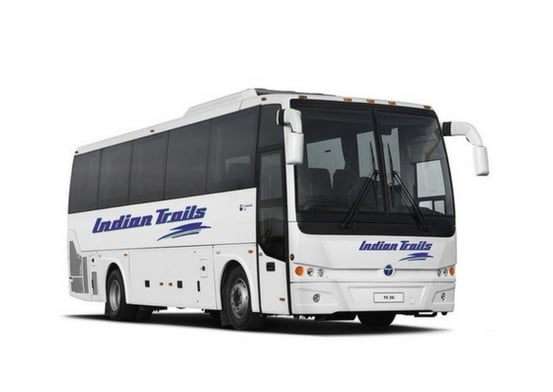 Drum roll please … effective January 1, 2018, Indian Trails will provide small group transportation aboard our new luxury Temsa TS-30, 34-passenger coaches! Our luxury mid-sized coaches are perfect for your smaller group, team, or club trips. Now you too can enjoy the same comforts and conveniences available on our large coaches.
These beautiful buses have the most modern amenities available. From great accessibility with front-kneeling capabilities, to an inside aisle height of more than six feet, to our GPS tracking system, we put your group's safety and comfort first.
These beauties also are built with an American-made Cummins-Allison power train, have a sumptuous touring-coach interior, a high-quality heating and air conditioning system, plenty of luggage space, and even a spacious bathroom!
But wait, there's more!
Our new mid-sized coaches have all the capabilities of our larger coaches when it comes to entertainment and technology, including:
110 electrical outlets and USB ports at each set of seats
DVD player with flat screen monitors
Public address system with back-up microphone
Free WiFi
Your group will also be happy to know our mid-sized coaches also offer:
Arm and head rests
Seatbelts
Reclining seats
Overhead storage
Individual overhead lighting and climate controls
Rear coach window
For the especially safety conscious, we are happy to report that our new mid-sized coaches are of monocoque (from the French for single-shell) structure in stainless steel making them extra durable, safe, and fuel efficient; nice to the planet and your budget!
Great trips on your horizon for 2018! Whether you want to plan a trip across the state or across the country, Indian Trails has the coach for you! Contact us today for assistance planning your trip or request a quote for your group!