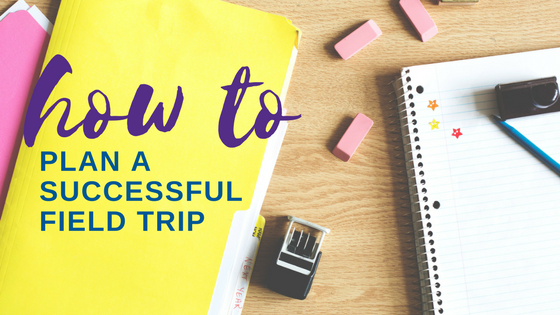 A successful field trip takes detailed planning. Follow these steps for a smooth day away that's memorable for all the right reasons.
Determine the educational goals for this field trip.
The most fun and memorable field trips are the ones that bring theoretical classroom learning to life. A field trip should engage students' senses and encourage learning through hands-on experiences. With this in mind, ask yourself a few questions:
What do you hope to accomplish on the field trip?
How will it enhance your curriculum?
What will the students do and learn on the trip?
Select a date and location.
In this information-gathering phase look for a field trip experience that will meet your educational goals while conforming to your school's policies and procedures for trips away.
Consult the school or district calendar to avoid scheduling conflicts.
Get any necessary field trip approvals from administration.
Develop a list of areas of study to consider when conducting online research. Use broad search terms like "science field trips in [your area]" or "educational group trips."
Ask other teachers or group leaders where they've gone in the past.
Draw upon your own experience to choose a location.
Research online.
Research field trip ideas, looking for destinations that are group-friendly, affordable, and appropriate for your students, curriculum or subject matter. Whether you are considering a destination close by or far away, there are so many interesting options that promise not only an educational experience, but a fun one too! Here's a look at several within Michigan and beyond!
5 Amazing Field Trip Ideas in Michigan — If science and nature are on your list, here are five choices in areas across the state offering everything from the moon and stars to a step back in time.
Unforgettable Chicago STEM Field Trips — STEM subjects offer so many possibilities for field trips and the City of Chicago has an amazing array of destinations.
Six Historic Michigan Field Trips — Michigan's history is rich and deep, so introduce your students to history they can touch and see.
Unforgettable Michigan STEM Field Trips — Michigan is taking STEM seriously, and these field trip options promise a day to remember!
Bugs, Ponds, and Hikes: Eco Field Trips in Michigan — Getting back to nature is always a great idea for kids and there are so many great destinations from which to choose.
Field Trips Off the Beaten Path: Michigan's Rural Zoos — Animals and other living things are fascinating subjects for kids, so take a day trip to the zoo.
Field Trips: Book a Bus to a Planetarium! If the sky's the limit for your class, show them the universe at a planetarium near you.
Learn about the site.
Once you've chosen a destination for your field trip, find out all you can about the site's resources, programs, and procedures for group visits. For example:
Special programs — Many museums, science centers, environmental learning areas, and cultural sites offer special programs for groups such as guided tours and customized workshops. Find out what each site has to offer and select one that will be the best fit.
Reservations — Most field trip destinations require reservations for large groups, especially if you want to take advantage of staff-led activities. Be aware that some popular sites will not admit groups without prior registration. Make note of any deadlines for deposits, paperwork, head counts, and online registration, and be sure to meet those deadlines.
Cost — because it is a significant factor for many families, you will need to know:

What is the cost of admission? Is there a discount for student/youth groups?
Does your school, school district, or organization subsidize costs when a student can't afford the field trip?
Does the site offer scholarships, discounts, or need-based reduced admission? How do groups apply for assistance?
Do teachers and chaperones qualify for discounts or free admission?
When calculating costs for the field trip, remember to factor in not just admission fees, but auxiliary expenses as well, including transportation, special supplies or materials, meals, and a visit to the gift shop.

Chaperones — Many venues specify a chaperone-to-student ratio for groups. This ratio may vary depending on the age of the students. Find out your site's policy and comply with it.
Services and facilities — Ask if the site offers bus parking, a room for eating lunch, a secure area for coats and personal possessions, etc. Make note of any policies for reserving these facilities.
Plan your field trip.
If possible, visit the site to get a feel for its layout and offerings. If a visit isn't possible, take advantage of virtual tours, brochures, maps, and other guides so you are familiar with the layout.
Select a theme for your field trip and plan your visit around it. You don't want to arrive at the site and wander aimlessly through exhibits that aren't relevant to your subject matter.
Decide which exhibits and/or activities you want to use and make sure they will be available on the day you're planning to visit.
If you have students with special developmental or physical needs, now is the time to communicate with site staff about any special accommodations and accessibility.
Work with designated facility staff to plan appropriate activities for your group.
Schedule your day, including meals, bathroom breaks, free time, and planned activities.
Register for your visit — including any workshops, tours and activities — according to the location's policies and procedures.
If your trip includes an overnight stay, read our "Suggested Guidelines for Overnight Trips with Youth and Teens," to help you stay organized.
Secure all approvals, permissions, and volunteer commitments.
When you've selected a site and reserved the day, you will need to attend to logistics at home:
Get official approval from your school and/or district and file any required paperwork.
Once approved, send a letter home detailing the following:

Date of the field trip.
Educational purpose of the trip.
Destination, with a physical description of the site.
Planned activities.
Specific preparations, such as special clothing, boots, lunches, money, sunscreen, gloves, backpacks, etc.
The cost per child for the trip, and the date by which the parents need to send the money to the school.
Departure and return time and location for the children.
Preparations to ensure personal and medical safety.
In addition, the following activities should be included on your checklist to ensure smooth sailing:
At least one month in advance, send student permission slips and medical emergency forms home with a deadline that allows you at least one week to firm up your plans and make last-minute adjustments.
Secure your chaperones and communicate with them about their duties. Be sure to have a backup chaperone to cover you in case of a last-minute cancellation. Also send them the participants agreement to complete and return.
Keep copies of the participant agreements, permission slips and medical emergency forms in one easily accessible place (like a binder), and designate one responsible adult to be the keeper of these documents throughout the field trip.
Secure transportation. Contact Indian Trails to learn more or request a quote.
A few days prior to the trip, confirm registration, lunch arrangements, chaperones, and transportation.
Let the school's food service know about the trip so they can adjust inventories and/or pack lunches to send with the class.
If you are concerned you might forget something important, just download our publication, "The Complete Guide to Booking a Bus." When you're ready to request a quote, it's as simple as clicking right here!