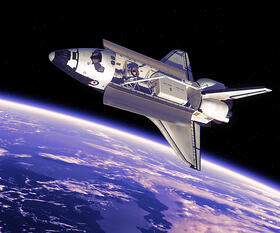 If this is your first foray into the world of shuttle bus contracts, please rest assured: This is not rocket science. (Unless, of course, you're talking about space shuttles, which we're guessing would require a certain amount of rocket science.) But this post is all about Earthbound shuttles – of the bus and van variety.
Not unlike a space shuttle (which transports people from Earth to space and back again), a shuttle bus transports people back and forth between two designated points, typically at regular intervals. And while it's clearly not rocket science, there is an art to seamless shuttle bus service.
Who needs shuttle bus transportation? Convention planners, residential communities, retailers, and entertainment venues, to name a few.
Let's break it down:
Convention planners often need to shuttle attendees from one location to another—from a headquarters hotel to an exhibit hall or meeting venue, for instance. To accomplish this, planners hire a reliable company to provide shuttle buses or vans to get their people where they need to go—no small feat, especially at a large convention. For example: When 93,000 convention goers descend upon Las Vegas to attend the National Association of Broadcasters (NAB) Show in 2015, they'll pick up their badges at the Las Vegas Hotel and Casino, attend sessions and visit exhibits at the Las Vegas Convention Center, and stay at any one of 30 NAB-approved lodging establishments in the bustling resort town. Shuttle buses must run seamlessly between these venues, at 20 minute intervals, all day, every day, throughout the event—a magic act to rival anything attendees might see at a Las Vegas floorshow.
Residential communities. Large apartment and condo complexes—especially those specializing in senior adult or student housing—may provide shuttle service as a selling point for the convenience of their population. Look at Century Village, for example. Residents of this sprawling south Florida condo community (which houses 10,000+ senior citizens in four locations) can take a free shuttle bus, daily, to area shopping centers, libraries, medical buildings, golf courses, and grocery stores—an essential service for people who want to remain active and independent but no longer drive.
Retailers. With internet shopping at an all-time high, the idea of using shuttle buses to attract customers to physical stores may be a promising concept for big box retailers (like Walmart), specialty stores (like Ikea), and outlet malls. Michigan Walmart stores are already doing it, with impressive results. Several times a week, a free shuttle bus stops at senior facilities, apartment complexes, and community centers to take customers to a local Walmart; a few hours later, the bus takes them back home. Not only does the Walmart shuttle bus provide an essential community service for people who don't drive; it also builds customer loyalty, enhances Walmart's visibility in the community, and boosts sales.
Entertainment and Festival Venues. Anyone who's ever attended a concert, art fair, sporting event, or festival of any kind knows that traffic and parking at events can be a nightmare. The coordinators of these events hire shuttle buses to take guests from remote parking lots (sometimes miles away) to the event.
Shuttle buses are commonplace on college campuses—especially sprawling ones, where students may have to cover several miles on any given day. Even high school honors convocations and swim meets need them sometimes. And when church and synagogue parking lots mysteriously overflow during Easter or Yom Kippur … a shuttle bus is often pressed into duty.
Any time people need to get from here to there and back again (and again and again), a shuttle bus makes a lot of sense.
For more information about getting a shopper shuttle for your organization, follow the link below: