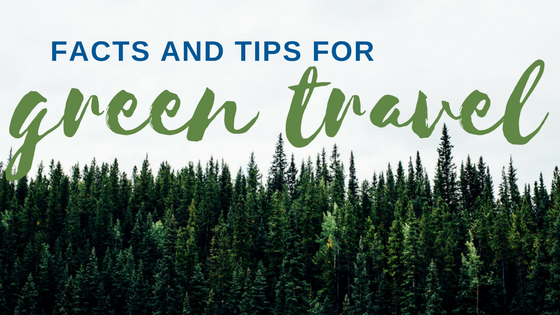 As you begin planning your next group trip, have you ever considered ways to make group travel greener? Believe it or not, your group can do its part to fight climate change by carefully choosing your mode of travel, your choice of destination, and even what you bring along. Here are some interesting facts and great tips for making your group's travel more sustainable without sacrificing comfort or fun!
Fact:
In the U.S., transportation accounts for 29 percent of greenhouse gas emissions. To reduce our emissions, it is essential to transport more people using fewer vehicles, (i.e., buses). In fact, the Federal Transit Administration says "national averages demonstrate that public transportation produces significantly lower greenhouse gas emissions per passenger mile than private vehicles."
Tip:
Travel by bus to reduce greenhouse gas emissions by 33 percent over an average single-occupancy vehicle. Indian Trails' eco-friendly buses exceed U.S. Environmental Protection Agency standards by reducing exhaust pollutants to almost nothing while achieving high fuel economy of about 206 passenger miles per gallon on average. Overall, each coach has the potential to remove 50-55 automobiles from the highway, further reducing air pollution and traffic congestion.
Fact:
Taking the most direct route to your destination saves time, and reduces fuel use and emissions.
Tip:
When planning your trip route and itinerary, work with your charter company to make it as direct as possible, even if you have multiple stops. This will save all of the above, and help you stick close to your itinerary, which makes for a much smoother trip
Fact:
More and more public venues, motels and resorts are going green so it's getting easier to choose a destination that fits with your groups sustainability goals.
Tip:
Most venues that have any kind of "green" certification will be touting that on their websites so check in with your first choices. Next try these links that have a wealth of information to help you speed up decision making. Grand Rapids has eco-friendly information for everything from conventions to hotels and eateries. Look up structures that have received the U.S. Green Building Council's LEED certification. Check out Pure Michigan's eco-friendly website for a map and a variety of venue possibilities.
Fact:
When it comes to sustainability, less is more.
Tip:
There are many ways to reduce your carbon footprint while traveling, and here are just a few:
Travel as light as possible. The less weight you bring onboard any vehicle, the less fuel used and pollution emitted.
Bring a reusable water bottle/coffee cup and a reusable shopping bag.
When you arrive at your destination, be sure to ask about recycling and where recycling bins are located.
Plan to eat at restaurants that serve meals made from locally sourced food.
Let your hotel management know that you do not need your sheets changed everyday and that one bar of soap (and other free toiletries) is enough. You can always ask for more if needed.
Traveling away from home shouldn't mean you change from being a climate conscious citizen to an environmental ogre. At Indian Trails we try to make environmentally informed decisions about all of our operations and look forward to serving your group on your next trip. Click here for more information about Indian Trails' charters.