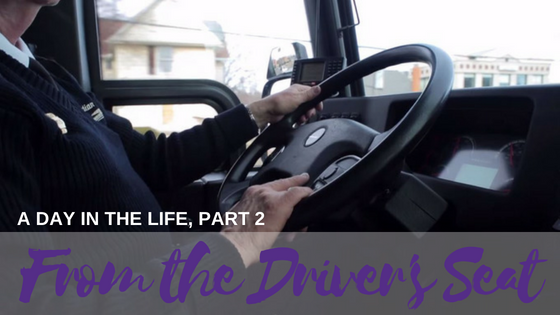 For the second installment of our 'From the Driver's Seat' series we spoke with Lauria Shultz, who has been a driver with us for 6 years, about why she loves her job. She explains why anyone thinking of applying to Indian Trails should definitely go for it - it's a challenging but extremely rewarding job where you get to talk to people from all over the world!
W
hen did you begin your career with Indian Trails?
Lauria Schultz: I began in May of 2012.
What brought you to this career?
Lauria: I needed a better paying job and actually it's a very odd story. I used to work at McDonald's and I talked to a lady there who had just been transferred and she said, "Why don't you go down to Indian Trails?" So I did, and it turns out it was our old safety supervisor's wife (I spoke to at Indian Trails).
Tell me about an average day for you right now, the route you're on, where you're going, what you're doing?
Lauria: I'm on the Chicago three route and I start at 4:40 am and I go Grand Rapids, Lansing, Grand Rapids, Kalamazoo, Benton Harbor, Gary, Indiana, Chicago. I drop off people for Amtrak and I pickup people that are going into Chicago. It's usually a good eight or nine hour day.
Then you do that all in reverse on the way back?
Lauria: Yes, I go there, I clean my bus, go the apartment that they have for us in Chicago and then I come back the next day and do it all in reverse.
What is your favorite part of the job?
Lauria: People, meeting people from everywhere, especially once I get to Chicago, but also meeting the people on my bus. We have a lot of people that we bring from other countries to work at Mackinaw Island, and so you get to meet all those kids. I have met people from all over the world and that's my favorite part; talking with people.
When you're in Chicago do you get to explore the city?
Lauria: Yeah you do. I have a park that I walk at. I've been to Navy Pier and then I walk the shoreline sometimes. We are right off of Michigan Avenue, but then that's not my thing. If shopping were your thing then you're in heaven.
Can you share some memorable moments with us or what you enjoy most?
Lauria: When we're heading toward Chicago and it's going to rain. Everybody gets quiet and they watch the sky. Whether it is a sunset we're seeing or whether it's storm clouds, everybody just kind of looks and they're in awe. They'll talk about the weather coming or whether it's a snow storm even. People kind of just gather and they're watching. It's really memorable because some people, they'll start getting personable and tell me something that happened to them. You can drive and listen.
It sounds like it's nice for you to share in those special moments in people's lives?
Lauria: Oh yeah. It's really cool when you're seeing all the lightning and the sunset. You're coming into a storm but we're not there yet. People just start saying nice things.
What would you say to somebody thinking about applying for an Indian Trails job?
Lauria: Definitely give it a try and definitely give it a year because, like everywhere else, you're going to start maybe not at the top, but it doesn't take long before your opportunities grow because we bid (on jobs) every four months. If you're disappointed, which I don't think you will be, but if you're disappointed in the beginning then wait four months and you won't be. Just give it a little bit of time. I thought that when I first came here I got appointed a job that I went, "Oh," but I loved it. I ended up rebidding that job. Then in January I got appointed to Chicago and went, "Oh," and I've been rebidding that now for five years, well about four and a half.
Explain bidding to me. What is that?
Lauria: Bidding is when you have a chance to switch what you're doing every four months. It goes from top seniority to lowest seniority. They start at the top and they ask each person what they want and when it gets to you, you get to pick from what is available. Yes, you get to pick from what's left over but you'll be surprised at what's left over because other people like variety too and they may not want the same job, so their job opens up.
What else would you like to share with us? Anything?
Lauria: Personally I love this job. It's a rewarding job. I'm not in a shop. I'm out under the blue sky. I see all the weather. It's not any longer of a day than anybody working anywhere else. I personally love this job, the people, the driving, just every part of it. I enjoy what I do.