We are back with former driver Becky Smith, a driver with Indian Trails for over 15 years, to find out why she loved her job as a bus driver and why she equally loves her new position as safety and driver education manager at Indian Trails! See our blog From the Driver's Seat: Becky Smith, to learn about her bus driving experience.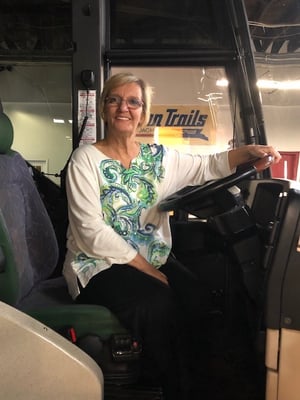 Becky Smith started her career with Indian Trails as a bus driver in March 2003. At first, she wasn't quite sure if this is what she wanted to do long term, but quickly fell in love with both the company and the position. Once she was hired, Becky knew she wanted to specialize in long-distance trips. She took the initiative to memorize the routes around Washington D.C., New York, Boston and Nashville, which helped her excel in her position and resulted in many repeat customers who came back asking for Becky.
After 15 years experience on the road, Becky had the opportunity to turn her keys in for a new position, one that she feels is extremely important and comes with a lot of responsibility - safety and driver education manager. In July 2018, Becky took the leap and accepted the position.
Before the position officially opened up, Becky had assisted with the training program after asking the previous safety manager to be involved. Her dedication to training and safety made her a shoo-in for the position.
Transitioning from bus driver to safety manager was harder than Becky anticipated. She had many positive experiences and memories from her time as a bus driver. One of her proudest accomplishments was driving Bus #1 for The Tabernacle Choir tour. She was the leader of this four-bus caravan for three consecutive tours. Becky was a part of the caravan the first year the choir traveled with Indian Trails, and when it was time for the choir to take another tour, they came back and specifically requested Becky be the lead.
Although it wasn't easy making the switch to safety and driver education manager after being a bus driver for 15 years, Becky is glad she did it. So used to being out and about, she is still adjusting to sitting at a desk the majority of her day. And she misses the camaraderie of other drivers. Having lunch with and spending time with other drivers on long-distance trips was fun to her.
The main difference she has noticed and enjoys about the Safety Manager position is that the drivers she previously had as co-workers respect what she is doing and respect the fact that she brings a lot of her own experience to the table in what she does today. This respect makes the change in career paths worth it to Becky.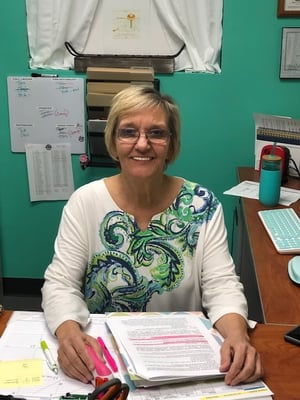 From Becky's experience as a new driver in 2003, then with 15 years on the road, she has brought new ideas and changes to the training program in order to make it better for new drivers joining Indian Trails. Reducing the training program duration from 4-6 weeks to 3-4 has been a big benefit to new drivers. It is an intense program that covers all the important areas of both driver and passenger safety, and Becky personally ensures the success of each driver, tailoring the program to their specific experience level and learning style. She shared the example of a driver in the U.P. not needing to complete the Michigan Flyer training, and highlighted that if she doesn't feel a new driver is ready to go out on the road, she will work with them and even keep them in the program longer in order for them to succeed.
Becky has enjoyed every minute of her time with Indian Trails, which she attributes to the fact that Indian Trails is a quality company. From the company picnic to the Christmas party to raises for employees, they care about their employees, and they show that they care. Since Becky started, they have implemented large raises as an incentive program for long-term employees, a raise in vacation pay, and, overall, pay their bus drivers better than the industry standard for a job that comes with a similar amount of responsibility. The work is hard from both a bus driver and a manager position, but it is rewarding.
Lastly, Becky wants inquiring minds to know that patience is a virtue at Indian Trails. She attributes people staying in their positions so long to be because they find them rewarding, and they like the company, which means manager positions like Becky's don't open up often. However, the longer you work as a bus driver, the more decision-making power you will have over time.