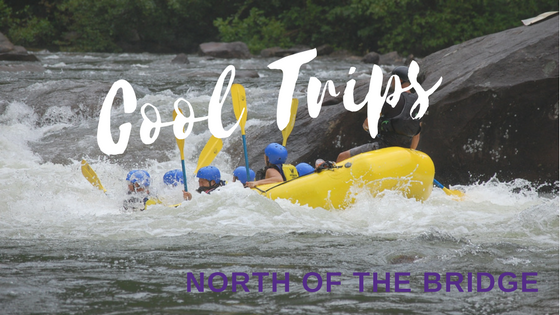 Michigan's Upper Peninsula is a true treasure, with so many places to go, events to attend and entertainment options to enjoy, it's almost impossible to give it all the accolades deserved. Instead, here's a look at group trip ideas to enjoy the great outdoors in one of our country's most pristine and beautiful areas.
Whitewater Rafting
You don't have to travel to another state to take your group on a whitewater rafting adventure -- just head to Iron Mountain in the Upper Peninsula. The wild and beautiful Peshtigo and Menominee Rivers offer plenty of chills and thrills, but also areas where you will drift leisurely through some of the Midwest's most scenic wilderness. The Menominee River is, in fact, one of the most challenging rafting rivers east of the divide with class I-IV rapids, but enough variety that even beginners can enjoy a fun but safe ride. During your rafting journey, you will float between 200-foot-tall cliffs, ride rapids, and maybe even see some wildlife. And when the ride is over, Iron Mountain has plenty to offer with great restaurants and shopping, comfy and affordable hotels and motels, and other things to do like hitting an award-winning golf course, visiting museums and enjoying other attractions.
Sea Kayak Touring Off the Keweenaw Peninsula
If your group is water-loving and experienced with kayaking, sea kayaking on Lake Superior is a must-do, and the Keweenaw is the place to do it! Consistent with your group's level of experience, you can rent equipment – kayaks and paddles, as well as life vests, wetsuits, and more. Kayaks come in different lengths, and two-person kayaks may also be available for those preferring the buddy system. You can enjoy trips ranging from a few hours to a seven-hour day, depending on your group's preferences. In addition to a kayaking adventure, the Keweenaw Peninsula is overflowing with history, ghost towns (Yes — ghost towns!), scenic trails and byways, lighthouses, and parks and beaches, to mention just a few and pique your interest. This can't miss trip is one you will want to do again and again!
Tahquamenon Falls – a Hikers Dream
One of the most beautiful and thoroughly enjoyable hikes in Michigan is that to Tahquamenon Falls —it's no big surprise the nearest town is named Paradise! Separated by about four miles of swirling water and smooth rocks, the Upper and Lower Falls are worth the hike in any season, but summer is simply the best! The falls are contained in Tahquamenon State Park, where 24 miles of river run through it and hikers have more than 40 miles of trails from which to choose. The park also offers 13 inland lakes and about 20,000 acres of natural area to explore thanks to the enormous popularity of the falls, there are plenty of places to stay and things to do in and around Paradise. These includes visiting Whitefish Point for excellent bird watching, Oswald's Bear Ranch (the largest bear-only ranch in the country), the Shipwreck Museum — ranked in the top 10 maritime museums in the world, and maybe casting a line in Hemmingway's Two Hearted River.
Rock On in the UP
Love rock collecting? The Upper Peninsula is a vast rock repository and gemstones of many kinds can be found if you're in the right place at the right time. Perhaps the best-known Michigan gemstone is the agate, which can be found with a little luck and a good eye along Lake Superior beaches. It is especially fruitful to look for agates after strong storms move rocks onto the shore, primarily from Grand Marais to Whitefish Point. Beginning at Grand Marias, (aka the Eastern Gateway to Pictured Rocks National Lakeshore), the Gitche Gumee Agate and History Museum is a great place to stop and learn more about agates in the area, and the geologic history that makes them so beautiful. It's proprietor, The Agate Lady, Karen Brzys, is a well-known agate authority who speaks on finding agates and has published books on the subject. From there, you can map out the beaches you like best, move down the coast toward Whitefish Point, and rock on!
The Upper Peninsula is still so wild and so unspoiled it's the perfect venue for groups that love being outdoors, enjoying the beauty and majesty of nature. These are just a few ideas to get your group thinking and planning your next trip. Indian Trails loves the UP too and is ready to help your group enjoy a safe and memorable trip. Learn more about our charter services and request a quote today!