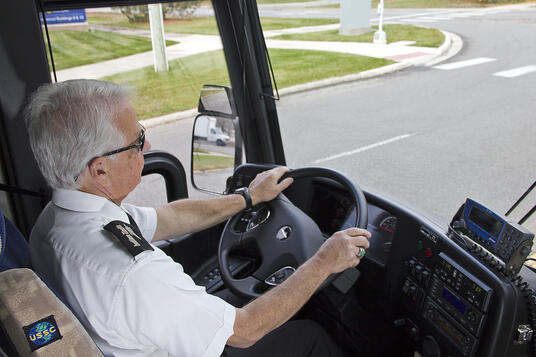 It's true: Companies hiring drivers — in fact, companies filling all kinds of jobs — are looking to recruit older workers. There is a new phenomenon sweeping the American labor market. The Bureau of Labor Statistics has called it "the graying of the U.S. workforce."
Retirement-age workers simply aren't retiring.
According to a 2013 survey commissioned by the job search website CareerBuilder, 60 percent of workers over the age of 60 will be looking for a new job after retiring from their current position. Whatever their reasons for seeking work, their prospects are pretty bright. In the same CareerBuilder survey, 59 percent of employers agreed that mature candidates bring a wealth of knowledge to an organization; 48 percent said they'd hired workers over age 50 within the last year; and 22 percent were actively looking to hire more "seasoned" staff members in the immediate future.
Age discrimination is so "last generation"
We're not suggesting that age discrimination has magically disappeared. It still exists. But times are changing and attitudes are evolving — for the better. For one thing, baby boomers (members of the post-World War II generation now reaching retirement age) are still running many of the country's companies and organizations. They know firsthand that they and their contemporaries have a lifetime of knowledge and experience to offer, and they have no intention of riding off into the sunset anytime soon. Younger managers, too, are starting to recognize the benefits of recruiting an intergenerational workforce; they see that healthy, active, and engaged older people are assets to their organizations. For this reason, many American employers are taking steps to become "age friendly."
Age-friendly jobs
U.S. News and World Report identified eight promising part-time employment options for retirees — jobs as retail clerks, tax preparers, bookkeepers, home health care providers, personal assistants, tour guides, non-profit workers, and professional drivers. AARP (formerly the American Association of Retired Persons) gives a thumbs- up to health care, higher education, banking, and the U.S. government for hiring older workers. According to a Wall Street Journal article by retired journalist and part-time charter bus driver Robert Johnson, motorcoach companies welcome older job seekers because they are reliable, mature, and tend to be better insurance risks than younger drivers.
What's in it for employers?
From the employer's perspective, workers in their 50s, 60s, and beyond can bring a lot of wisdom and know-how to the table. In jobs that require flexibility, leadership, and the ability to stay cool under pressure, recruiters may actually seek out older candidates. After all, senior adults, by definition, are mature. In some jobs, a few gray hairs can be a plus.
What's in it for job seekers?
From the job seeker's perspective, it's nice to know that life experience, professional skills, and maturity actually have some value on the job market. Furthermore, research shows that staying active, learning new things, and taking on physical and intellectual challenges contribute significantly to our wellbeing as we age. Working is a good thing.
But most senior adults re-entering the job market aren't willing to settle for "any old job." Many want to try something completely new. They may prefer a part-time job with flexible hours. Some may want to parlay their decades of experience into consulting jobs; some may choose to become volunteer mentors. Other retirees may decide to turn a hobby (like painting, writing, antiquing, or driving) into a second career. While some older workers need the money to live on, others may just want to supplement their retirement income with a little extra cash. Some retirees want to work full time; others may simply want to get out for a few hours every week to feel like they are still part of the world.
Is motorcoach driving right for you?
For a certain breed of retirement-age job seekers, motorcoach driving holds an irresistible appeal. Some seniors — especially those who have spent decades behind a desk — may be lured by the call of the open road. There are some who thrive on the sense of accomplishment that comes from mastering a completely new skill (in this case, gaining command of a 13-ton vehicle). For those who enjoy social interaction, driving a bus offers an opportunity to stay connected and interact with all kinds of people. Motorcoach driving seems to suit retirees. Between 30 and 40 percent of the nation's estimated 100,000 motorcoach operators are retired or semi-retired. And there are plenty of jobs and training opportunities for prospective motorcoach operators of all ages.
Which companies are hiring drivers?
If you think you might be interested in pursuing a job as a motorcoach operator, narrow your search by visiting the American Bus Association (ABA) website, where you will find a list of member companies in your area. Visit those companies' websites and/or give them a call to see if they're hiring. Questions to ask:
Are you hiring drivers?
Try to get a feel for whether there are full-time or part-time jobs, how much job flexibility they offer, and so on.
Do you provide training?
Some companies offer free training to prepare their drivers to earn a commercial driver's license (CDL).
Some companies even pay new hires to attend the training. Find out.
What are your eligibility requirements?
How do I apply?
If you're a good driver, if you want to try something new, and (especially) if the open road is calling you . . . consider becoming a motorcoach driver.