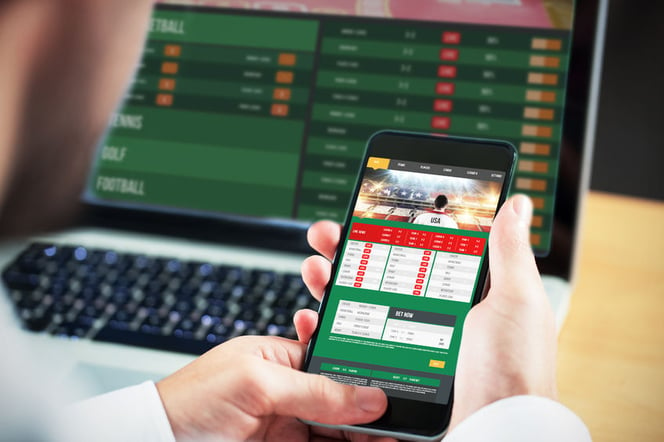 Do you remember life before the internet? If so, we'll assume you also remember a time when a trip to the casino was one of the only places to get your gambling fix. But online gambling is on the horizon.
It's no secret that technology has changed the gaming industry. What was once considered a shady business is now an openly accepted form of entertainment. And understandably so. The convenience of getting your gaming fix without leaving the couch is a big reason that gambling online has taken the internet by storm. But caveat emptor—let the buyer beware.
Here are five reasons why Michigan casinos are better than online casinos.
1) Online gambling is not (yet) legal in Michigan.
As of September, 2017, only three states—New Jersey, Delaware and Nevada—have legalized online gambling. Although legislation has been introduced to legalize online gambling in Michigan, it remains to be seen if it will move along or meet opposition. According to the Michigan Gaming Control Board's (MCGB) website, "All forms of gaming are illegal in Michigan except those specifically permitted under Michigan law." Detroit and Tribal casinos are permitted by law in Michigan.
2) If you gamble online illegally, no portion of your losses goes to state or local governments, like the monies now paid by Michigan's brick-and-mortar casinos.
In Michigan, Tribal Gaming Compacts and related agreements dictate how much each Tribal casino must pay local units of government/local revenue sharing boards, the Michigan Economic Development Corporation (MEDC) and the Michigan Strategic Fund (MSF). In 2016 the MGCB reported a total of $29.2 million to the locals and $60.4 million to the MEDC and MSF.
The Detroit casinos deposit state wagering tax revenues into the state's school aid fund (for K-12 education) and deposit Detroit gaming excise tax revenues into the city's general fund for improvements. For 2016, the MGCB reported those funds received more than $112 million and $175 million, respectively.
So if you have to lose, at least you know it is going in part to fund local and state programs.
3) Gambling with other humans is more fun!
Have you ever won big and had no one to share it with? While the anonymity of gambling online might appeal to some, gambling live at a casino engenders a sort of comradery among friends—and even between strangers—at the same table or on neighboring slot machines. When someone is lucky, it's infectious and spreads like a "happy" virus. Even small wins are more fun when others acknowledge you and even congratulate you. Winning alone at an online casino would obviously lack that human element, and thus might not be nearly as gratifying, or fun. And if you lose, wouldn't you rather be on a casino charter bus full of empathetic friends?
4) It can be costly to separate the legitimate online gambling sites from the scams.
Online gambling websites can be run from anywhere on the planet, by anyone on the planet, scrupulous or not. As a result, there are many scam sites and sorting the good from the bad could cost you. So, while everyone knows that gambling is risky, why would you choose to spend your hard-earned dollars on a site that may never pay, even if you do win? Especially when there are great casinos like FireKeepers, Soaring Eagle, and Four Winds just a short drive away by car, or better yet, by deluxe Indian Trails coach.
5) Casino food is better than the food in your fridge.
Part of the fun of gambling is enjoying the casino's amenities like restaurants and cafes. Michigan's casinos offer excellent cuisine in beautiful surroundings, as well as simple snacks like hot dogs and pizza that you can eat on the run. And some casinos give bonuses that include meal discounts and other freebies like show tickets, prizes and lodging.
- - -
Indian Trails offers scheduled trips to FireKeepers in Battle Creek and Greektown in Detroit, as well as coach charters to casinos throughout both of Michigan's beautiful peninsulas. It's never been easier to have fun!