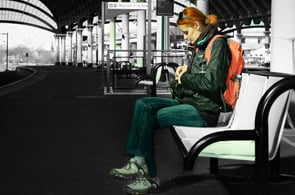 In the realm of transportation, statistics prove that buying bus tickets is on the rise. While 42% of travelers are young adults, 89% bring friends when they take a trip. It's no wonder that so many young people are taking the bus. Young adulthood is practically synonymous with a glut of expenses — education, housing, and the overall daily cost of living — so when it comes to transportation, they want the least expensive way to get from one place to another.
Compared to planes, trains and cars, bus tickets are by far the most cost-effective. Blogger Michael Bluejay crunched the numbers. When he compared the costs of driving, flying, taking a train, or riding the bus … he discovered that, for short trips, bus travel is the cheapest way to go. USA Today also rates bus travel as the most inexpensive way to travel across the country. Not only is taking the bus cheaper than other modes of transportation, but bus stations are also much more common than airports. Passengers can almost always find a bus station in or near their own town.
For this reason, bus tickets are gaining popularity among millennials — especially college students. Millennials (those born between 1982 and 2000) make up one of the largest generations in American history. Also known as Generation Y, this huge cohort — with its own unique "take" on spending — has the power to reshape the entire economy. This infographic from Goldman Sachs shows why.
Perhaps one of the most significant findings is that, for millennials, it's all about access not ownership. For example, Gen Yers are way more likely to subscribe to a service like Netflix than to buy DVDs. Likewise, while purchasing a car was a top priority for previous generations, many millennials are putting major purchases on the back burner; some are even avoiding them completely. Automobile dependency is out, and public transit is in. For this reason, millennials can also be thought of as the transportation generation, as they are steadily decreasing the amount of driving while increasing the use of transportation alternatives, including bus travel. College students make up a good portion of the millennial generation, which is why savvy bus companies are catering to their needs and travel preferences.
Millennials are a very informed generation, and their travel patterns differ greatly from the patterns of their parents and grandparents. This generation is passionate about travel for travel's sake. They travel much more often, they extend their business trips for leisure, and they thrive on "the experience." Millennials are 50 percent more likely to have traveled for business in the past couple of years than are people over 35.
Millennials see a lot of advantages in public transportation — among them pay-per-use, environmental impact, access to Wi-Fi, and the sense of community that it can offer. Because we're dealing with a tech-friendly generation, they are all about staying connected. The use of mobile devices is the norm. In fact, when asked if they would rather take a 50-minute bus ride with Wi-Fi or a 25-minute car drive, 80 percent of those under the age of 40 actually preferred the longer bus ride.
Bus transportation will continue to grow in popularity as the economy changes and the demand for more cost-effective travel increases. It's a mode of travel that is giving trains, planes, and automobiles a run for their money. It is travel for current and future generations — and millennials are changing the travel industry without even realizing it. Companies will sell a lot more tickets by keeping up with changing trends, and catering to "the experience" of traveling by bus. Within the next ten years, millennials are expecting real-time travel updates, even more reliable transportation systems, a user-friendly travel experience, and access to Wi-Fi no matter where they are. By staying focused on increasing expectations, environmental awareness, interconnectivity, and creating a sense of community, bus companies throughout the country will continue to thrive.