If you think driving a bus is like driving a car, think again. While it may not be as easy, with the proper training and practice almost anyone can find success as a motorcoach operator. What many people may not realize though, is how state-of-the-art our buses really are. We wanted to give you a sneak peek into all the features our drivers get to interact with daily, all while transporting large groups of people safely to their destination.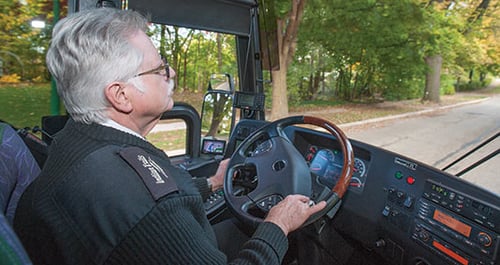 Two-way radio: Allows drivers to talk to other drivers on different buses while in transit. Primarily used during multi-bus moves.
Microphone: Used to talk to passengers on your bus to make announcements about an upcoming stop or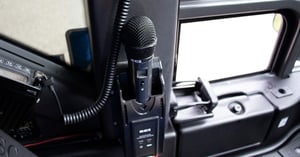 whatever you find necessary. There are multiple mics on the bus, one for the driver only and another that is mobile which can be used by passengers, like a schoolteacher, to make louder announcements to the riders.
Tip: make sure you test this before you leave, because you don't want to be out on the road and not be able to announce things to your passengers, especially a meal stop.
Tag Tire Lift: Depending on what bus you're on, you may or may not need this little switch that helps prevent unnecessary wear and tear on your tires. When flipped on, it makes turning easier by lifting the bus's "tags" on select tires. This also prevents leaving tire marks while turning. Although it is small, it is instantly responsive, and you can flip it on and off while driving.
Engine Brakes: Also known as "Jake Brakes", all of our motocoaches are equipped with engine brakes, which slow the bus down on steeper declines. The drivers can do this along with regular brakes which can be at risk of overheating while on a steep decline.
Mirror Adjust: Just like your own vehicle, each bus has a mirror adjust toggle. You can adjust both the flat mirrors and convex mirrors on your bus as well as the driver's window.
Heated mirrors switch: Every bus doesn't have this feature, but in the motorcoaches that do, to heat your mirrors and prevent them from frosting or building up ice you can simply flip the switch.
Fast Idle Switch: By flipping this switch the driver brings the engine speed up to a higher RPM, which helps to build air quicker and also helps to heat or cool the coach. Bonus feature: Battery Chargers/Block Heaters: These features make it easier to start the bus in colder months.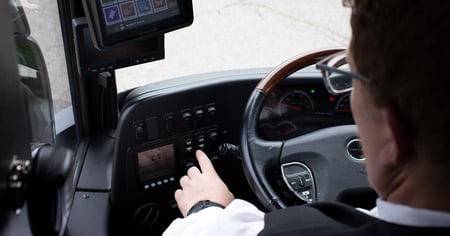 Luggage Lock: On multi day charters or whenever your passengers have items in the luggage bay, make sure to hit the lock whenever you leave the bus on a lunch break or any other time.
Cruise Switch: If you ever wondered if you could use cruise control on a large 56-passenger motorcoach, the answer is yes, you can. However, if the weather and road conditions are rainy or icy it is not recommended.
Kneeling and Lifting: As long as the door is closed you can kneel and lift the bus to help passengers load and unload. As a safety precaution, if the door is open the bus won't kneel. If the curb is too high and you try to kneel when the door is open, you could damage the door! This lift can also be used to help accommodate passengers in wheel chairs, by lowering the bus and allowing for a ramp to be utilized.
Horns: Motorcoaches come with not just one, but two horns – an air horn and an electric horn. Pro tip: use the air horn while driving on the highway and the electric horn when you're driving in the city.
Shifter: Just like a regular vehicle, our motorcoaches have a shifting mechanism in the form of buttons. You'll notice at the top of the picture that there isn't a "P", the bus will go into neutral when stopped and you will have to use the parking brake to put it in park. Fun fact: the bus won't go into drive if it is kneeling or if the parking brake is on.
Reverse camera: Have you ever wondered how drivers reverse those long 56-passenger motorcoaches? All drivers are trained to use their mirrors and check their surroundings, some of our buses equipped with a backup camera for use while reversing.
Safety tip: with using just the rearview mirrors, if another bus is stopped behind a bus on a multi-bus move, the driver will not be able to see the 50ft bus. That is why it's
important to leave space between a regular car and longer vehicles like a bus or truck.
Saucon: The Saucon is the Electronic Logging Device (ELD) that houses a lot of technology and is also a mode of contact with dispatch while drivers are driving. For starters, to turn on the bus you'll need to sign in, and you will also use this device for your drivers logs and to track driving time. Fun Fact: The Saucon also has GPS tracking so dispatch always knows the location of all Indian Trails coaches, in case of an emergency onboard or a mechanical breakdown.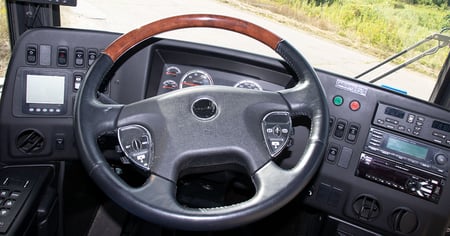 Passenger Accommodations
While driving the bus your passengers may need something from you, for example: volume control for the DVD playing, turning up the heat or turning the reading lights on. Being prepared to help with what you can will ensure your passengers have the best experience possible.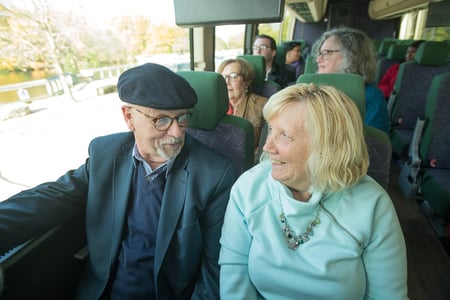 Wi-Fi: You control the Wi-Fi while driving and can turn it on and off as needed. The Saucon also houses the control for the Wi-Fi feature.
Passenger Comfort: This encompasses reading light, climate control, and house light controls throughout the bus.
Radio: When you use the microphone or when you're playing a DVD the radio controls the volume throughout the bus.
DVD Player: The player itself is located behind the driver as passengers on a charter trip are not allowed up past the line of seats. They can access the DVD player themselves though, and the driver can be of assistance with volume control from the radio. We also have a remote for passengers to control the DVD player while riding.
Electronic Outlets: Each bus will either have traditional outlets or USB plugins at every seat. The driver controls whether or not these are on.
While these features may seem overwhelming now, Indian Trails has an outstanding training program that will prepare you for operating your bus while assisting passengers with their needs. If this sneak peek of the inside of a motorcoach intrigues you, check out our "Bus Driver Guide" and visit our website for open motorcoach operator positions.