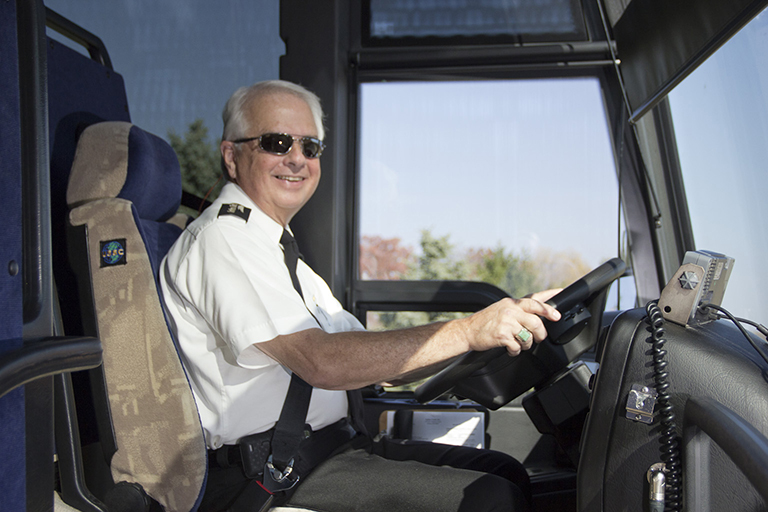 Quick: What's the first thing that comes to mind when you hear the phrase "bus driver jobs"? If you pictured Ralph Kramden (Jackie Gleason's fictional New York City bus driver on "The Honeymooners") or Otto-the-Bus-Driver (the cartoon stoner who drives the Springfield Elementary School bus on "The Simpsons") … it's time to expand your definitions.
There are all kinds of bus driver jobs available throughout the country and the region. Charter bus driving jobs are especially popular, as the motorcoach industry has boomed in recent years and brought more good-paying jobs with benefits for a first or even a second career. Eligibility and job duties differ depending on the company, but most driving jobs share certain requirements across the board.



Qualifications
Age
Most companies have a minimum age requirement you must meet in order to operate a motorcoach. In Michigan, you may drive a commercial motor vehicle, within state boundaries, at age 18. You must be 21 years of age to drive a commercial motor vehicle across state lines. Most motorcoach companies require at least a minimum age of 21, with many setting a minimum age of 22, 23, or even 24 years.
Education
While there are no formal education requirements for becoming a bus driver, state and federal regulations must be met. It is likely a company requires the driver to possess a high school diploma or GED. Some companies may require previous driving experience.
Pre-employment Screening
When applying for a bus driver job, you will find that most companies have pre-employment screening requirements that must be met. Motorcoach companies require their hires to:
possess a clean driving record;
pass a criminal background check; and
pass a Federal Department of Transportation (DOT) drug and alcohol test.
Applicants may also be subject to:
a National Sex Offender Registry check;
a Motor Vehicle Registry check;
a DOT physical exam; and
employment verification.
Of course, failure to pass any of the above tests, and/or a felony conviction will result in disqualification for the position.
Other Requirements
Some companies require drivers to have a passport for trips that cross country borders. Job duties and expectations often require the driver to be able to lift a minimum amount of weight in the form of luggage and other equipment.
Job Duties
Safety First
If you meet the eligibility requirements listed above, you can expect to perform different job duties both driving- and non-driving-related. Safety is always first. The main job duty of a motorcoach operator is to safely transport passengers between locations. Drivers must perform charter and regular routes depending on their assigned job, ensuring they are operating the motorcoach in a safe manner. It is important for drivers to keep road conditions as well as traffic in mind prior to beginning a trip. All equipment must be safely operated in a timely manner under various road conditions.
Non-driving Duties
Although the main job responsibility involves driving, there are also many non-driving duties. A few of these include taking tickets from boarding passengers, trip planning, assisting passengers in, on, and out of the bus, and housekeeping duties. Drivers should have knowledge of the assigned route prior to starting the trip. This means that he or she must have a good sense of direction, and also knowledge of the destination, such as available parking and other surroundings. Drivers must tidy the bus to make sure it is presentable for passengers. A few of these housekeeping duties might include sweeping the floor, disposing of trash, and emptying restroom holding tanks. As previously mentioned, drivers must also be able to manipulate or lift baggage and other objects – weight requirements are specific to different companies.
Operating equipment in a safe manner, following precise schedules while adjusting to traffic and weather conditions, and maintaining good customer service are among the most important job duties you can expect to possess as a bus driver. Training is the most crucial component for success as a charter bus driver, so compare training programs to find the one for you. If you're interested in a charter bus driving job, take a look at the company's website and review their eligibility requirements. If you're eager to start your career on the road, apply today!