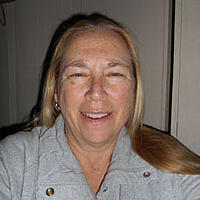 As the owner of Star of Saugatuck Boat Cruises, Marilyn Starring is your go-to when looking to charter a bus to Saugatuck/Douglas.
By Marilyn Starring
Group travel to Saugatuck/Douglas can hold a day of fun and adventure for your group, or make it an overnight trip to experience more of what these picturesque towns have to offer.
A variety of opportunities await your group throughout every season in Saugatuck/Douglas. You can plan your itinerary according to your client's budget, no matter how big or small.
SPRING – With flowers peeking out of their wintery beds, when the sun shines longer and we shake off that winter chill, everyone is anxious to get out.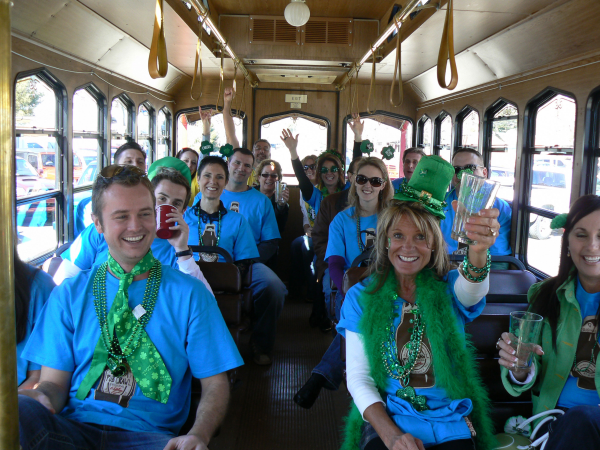 St. Patrick's Day is when "everyone" finds a wee bit of Irish in their heritage! Arrive in town mid-morning to explore the shops and have lunch together as a group or on your own. At 2:00 p.m. is the Annual 'Erin Go Bark! Pets and their People' Parade. Afterwards, consider doing a brewery tour at Saugatuck Brewing Company or wine tasting at Fenn Valley Winery.

Fenn Valley Vineyards
6130 122nd Avenue
Fennville, MI 49408
Phone: 269-561-2396/800-432-6265
Web: www.fennvalley.com
Email: winery@fennvalley.com
Fenn Valley Vinyards is a family owned vineyard and winery that is located on rolling sand dunes four miles from the shores of Lake Michigan. Since opening their doors in 1973, their premium wines have earned over 300 awards and medals.
At the tasting bar, you may taste from their selection of over 30 still and sparkling wines. During your visit, you may want to enjoy a glass of wine in our picnic area located in front of the winery tasting room. Or join us for one of our fun and informative cellar or vineyard tours, and they also have new release wine and food pairing dinners.
Hungry Village Tours
P.O. Box 131
Douglas, MI 49406
Phone: 269-857-1700
Web: www.hungryvillagetours.com
Email: info@hungryvillagetours.com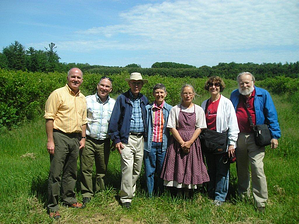 Take a Culinary Walk or a Delicious Drive and discover the culinary secrets behind the storefronts of Saugatuck and Douglas. Taste, sip, and learn what makes the shops in Saugatuck and Douglas a food lover's dream. Each tour is limited in size so that the experience is small and intimate. There will be several stops with tastes that may include smoky meats, area award-winning wines, hints of spice, delightful oils, richly roasted coffee, local fruit spreads and bakery breads, plus a local farm market. Our Delicious Drive will include niche farms in operation, including organic fruits and vegetables, artisan cheese producers, wineries, and a bakery. Hungry Village Tours offers food tours all year round.
Saugatuck Dune Rides
6495 Blue Star Highway
Saugatuck, MI 49453
Phone: 269-857-2253
Web: www.saugatuckduneride.com
Email: saugatuckdunerides@yahoo.com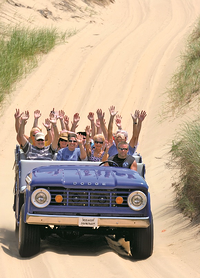 In the last week of April Saugatuck Dune Rides opens for the season. Fun for all ages, the ride takes you into Lake Michigan's majestic sand dunes for a 35-40 minute ride. The Saugatuck Dune Rides give you some insight into the history of how the dunes developed and evolved over time. Your ride will consist of traveling through the dunes in open aired-buggies that hold up to 18 passengers. Remember to bring your camera, as many picture-taking opportunities are available during your trip. You'll make a rest stop near the top of the dunes where you can get out and walk around if you like. This is an experience unique to Saugatuck, so don't miss it if you visit the area! The Dune Rides are open until mid-October.
Star of Saugatuck Boat Cruises
716 Water Street
Saugatuck, MI 49453
Phone: 269-857-4261
Web: www.saugatuckboatcruises.com
Email: emailus@saugatuckboatcruises.com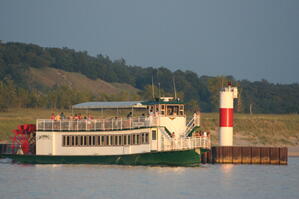 The first Saturday in May, Star of Saugatuck Boat Cruises opens for the season. This authentic sternwheel paddleboat offers a scenic tour on the Kalamazoo River and enters Lake Michigan with permitting conditions. The captain provides a live narration, pointing out local landmarks, telling you about the local and maritime history of the area. A different perspective from seeing Saugatuck from the water, view small weekend cottages to large homes, boats of every shape and size, and a variety of wild life. The Star of Saugatuck is a U.S. Coast Guard certified vessel, with an open upper deck and an enclosed/climate controlled lower deck. Box lunches can be arranged for your group; with restroom facilities located on the lower deck, and snack areas on both decks. The Star operates until mid-October.
Harbor Duck Adventures
528 Water Street
Saugatuck, MI 49453
Phone: 269-857-3825
Web: www.harborducks.com
Email: info@harborducks.com
Tour picturesque Saugatuck and Douglas on land and water! Harbor Duck Adventures Co. has transformed a World War II Army amphibious vessel into one big water taxi 31-feet long, seating approximately 20 people. Tours wind through downtown Saugatuck and across the bridge to Douglas. Hop off the Duck in Douglas and enjoy the village, then ride the Duck back to Saugatuck as it splashes into the waters of the Kalamazoo River and Saugatuck Harbor. Harbor Duck ends their season in mid-October. Their ticket office is located at 121 Griffith Street in Saugatuck.
Felt Mansion Estate and Gardens
6597 138th Avenue
Holland, MI 49423
Phone: 616-335-8982
Web: www.feltmansion.org
The Felt Mansion Estate and Gardens offers tours of this charming estate. Tour the Felt Mansion Estate and Gardens, for a moment back in time, a journey to an era of tasteful refinement. Dorr Felt invented the first office processing machine, the Comptometer, which was able to perform four math functions quickly and accurately. Dramatically increasing bookkeeping skills and speed, the Comptometer was an instant success and made Dorr Felt a millionaire. Felt built this beautiful estate for his wife and family, but – well, if you want to know the rest of the story, you'll just have to tour the estate. Tours are offered May thru October, Sunday – Tuesday from 1 to 5 p.m. – holiday tours are also available.

History
Have history buffs? Visit the Saugatuck/Douglas Historical Museum (open Memorial Day thru late October) or The Old School House in Douglas. The Saugatuck/Douglas Historical Society can help you arrange step-on guides for your group for a historical tour of the area.
Saugatuck-Douglas Historical Society
P.O. Box 617
Douglas, MI 49406
Phone: 269-857-5751
Web: www.sdhistoricalsociety.org
History Center Museum
130 Center Street
Douglas, MI 49406
Historical Museum
735 Park Street
Saugatuck, MI 49453
Phone: 269-857-7900
The Old Schoolhouse
130 Center Street
Douglas, MI 49406
Phone: 269-857-7901

Arts and Theatre
Mason Street Warehouse
400 Culver Street
Saugatuck, MI 49453
Phone: 269-857-4898
Web: www.masonstreetwarehouse.org
How about an evening of "live summer theatre" for your group? Saugatuck Center for the Arts is the home of Mason Street Warehouse – "an uptown theatre in downtown Saugatuck". Three productions each season - a variety of production adorn the stage of exceptional quality.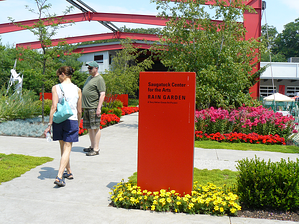 Saugatuck Center for the Arts
400 Culver Street, P.O. Box 940
Saugatuck, MI 49453
Phone: 269-857-2399
Web: www.sc4a.org
Saugatuck Center for the Arts brings a variety of arts for your groups to enjoy – "On Stage" – "Reel to Reel" series – "Intriguing Conversations" – Farmers Market during the summer and fall – Exhibits – Workshops. You have a variety of subjects for your group to experience and enjoy.
Douglas Dutchers Base Ball Club
P.O. Box 885
Douglas, MI 49406
Phone: 269-857-7055
Web: www.douglasdutchers.org
Batter up! The William Dutcher Vintage Base Ball Club plays old fashioned base ball in downtown Douglas at Berry Field. Enjoy a game of vintage base ball – fun for all! There are scheduled games with teams from adjoining states throughout the summer and early fall. Huzzah!

Holiday Events
As summer dwindles, temperatures cool, and trees turn bright red, orange and yellow mid-October offers Gallery Stroll – celebrating various forms of art in all types of media. Halloween brings a family costume parade in Saugatuck, and at night the adults have their own parade in Douglas.
Holiday shopping – why fight the mall crowds. Shop small business, and support local shop owners and artists to find the perfect gift for all those special people on your holiday shopping list.
On the first Saturday of December enjoy the annual Christmas parade in downtown Saugatuck – it's the ladies' Peppermint Stick Brigade vs. the men's Snow Shovel Drill team – it's small town charm and holiday magic all rolled into one. "The Cookie Tour of Inns" – Enjoy the legendary hospitality of many Saugatuck/Douglas Inns, Hotels and Cottage Rentals this December. Join us for an area wide holiday open house where you will be welcomed into many festively decorated lodging facilities to share their family's most treasured Christmas cookie recipes. There is also the annual tree lighting ceremony that evening. For information contact the Saugatuck/Douglas Visitors Bureau at 269-857-1701.
Your group will get into the Christmas spirit viewing the annual holiday production of "A Christmas Carol" – bringing the true magic of the holiday season for your enjoyment.
Whatever time of year you decide to bring your group, no matter how big or small; we're sure they'll enjoy their stay and want to come back for more!
Please note: tour operators must call in advance to check on availability and reservations. Visit www.saugatuckdouglas.com for additional information on the Saugatuck/Douglas area.
For more ideas on Michigan destinations, visit our blog.
Photo credit: Felicia Fairchild