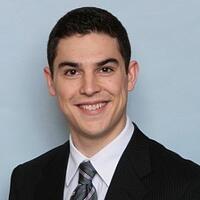 As the Director of Marketing & Public Relations for the Marquette County Convention & Visitors Bureau, Barry Winslow is your go-to when looking to charter a bus to Marquette County.
By Barry Winslow
It seems so often the first image that pops into our minds when thinking of getting away to vacation is sitting on the beach in a swimsuit, rum punch in hand, relaxing in the hot sun's rays. Granted, this would be a nice vacation, but there's a whole different sense of serenity when you navigate north. That's right; I'm talking about Michigan's Upper Peninsula, and more specifically, Marquette County.
A comforting sense of being at peace is the most immediate buzz one experiences even before arriving to Marquette. This sense of satisfaction occurs when driving through the pristine Upper Peninsula. Away from the pressures of everyday life and far removed from the hustle and bustle, it is up north that one can truly relax and enjoy the serene beauty of nature.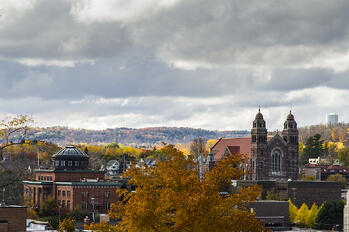 The business nucleus of Marquette County is that of its largest city, Marquette. With a population of 22,000 people, Marquette is the most populated city in the Upper Peninsula. Don't let the word populated deter you, as most anything from surfing to shopping to skiing is just moments away. In fact, that's the real beauty of Marquette. Outside of the city's absolutely gorgeous setting; nestled on the shores of Lake Superior and backed by the Huron Mountains, Marquette is a small city with a huge personality that has most anything to offer to every age group.
By far and away Michigan's best kept secret, Marquette is a north coast playground. Well worth every second of the three hour drive from the Mackinaw Bridge, Marquette is home to some of the best restaurants and events the state has to offer. Sure, chain restaurants like Red Lobster, Culver's and Applebee's are available, but Marquette takes pride in its wide array of excellent local dining. A popular choice is the Vierling, an original eatery that places emphasis on fresh and homemade lunch and dinner options. A go-to option is most definitely the Lake Superior Whitefish, fresh from the lake just a block away, as well as their delicious homemade soups and salads. Doubling as a brewery too, the Vierling became one of the state's first brew houses, opening a 5-barrel brewing system in 1995. The brewery, called the Marquette Harbor Brewery, specializes in producing delicious ales and lagers.
Speaking of beer, Marquette County is home to five microbreweries. Blackrocks Brewery, Ore Dock Brewing Company, and the Vierling/Marquette Harbor Brewery all reside in Marquette's city limits and all produce unique beer options, but smaller towns in the county also boast a brewing presence. Jasper Ridge Brewery & Restaurant is located in Ishpeming and their food and beer is well worth the twenty-minute commute from Marquette. Harvey, a small town due just south of Marquette is also home to their own brew pub, Chocolay River Brewing Company, which opened its doors in September.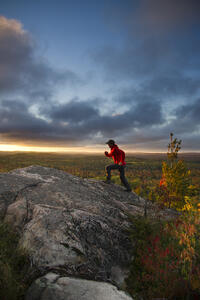 There's plenty to do in the county outside of food and drink too. There's always something going on to take part in, especially large festivals throughout the year. Summer brings residents and travelers together at Mattson Lower Harbor Park in Marquette. This harbor-side park in downtown hosts multiple festivals like the International Food Fest in July, Harbor Fest in August, and the U.P. Fall Beer Fest and the Marquette Area Blues Fest in September. Winter is also a popular season, as the city hosts the Noquemanon Ski Marathon in January and the UP 200 Sled Dog Race, an Iditarod qualifier, in February.
It's hard to leave out historic landmarks in the county, such as Presque Isle Park, the National Ski Hall of Fame in Ishpeming, the Landmark Inn in downtown Marquette, Northern Michigan University, Marquette Mountain Ski Area, the Vista Theatre in Negaunee, and the U.S. Olympic Training Site on NMU's campus, but it just goes to show that there's a true northern retreat awaiting in Marquette County, Michigan; you just have to navigate north.
For more Michigan destinations, visit Indian Trails blog.
*Photo credit: Aaron Peterson