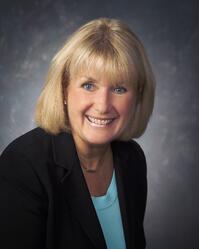 As a native of Holland, Michigan and Executive Director of the Holland Area Visitors Bureau, Sally Laukitis is your go-to when looking to charter a bus to Holland.
By Sally Laukitis
When people think of Holland, Michigan, they usually think of our annual Tulip Time Festival, which draws hundreds of thousands of visitors to Holland each May, and gives us the chance to share our Dutch heritage with people from all over the world. With the blooming of millions of tulips, three parades, headline entertainment, klompen dancing, and much, much more, there truly is something for everyone! (The Festival always begins the first Saturday in May; in 2019 it runs from May 4 - 12). But there is more to Holland than tulips….We're a year-round destination as well!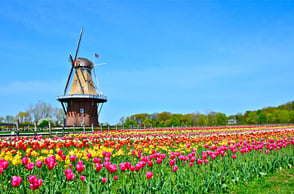 Holland is home to Windmill Island Gardens, featuring DeZwaan, a 260-year-old authentic windmill that was brought over from the Netherlands fifty years ago. You can tour the mill from late April through mid-October. Our female miller, who trained in the Netherlands, grinds the area's winter wheat into whole wheat flour. You can even purchase a bag to take home with you! Over 100,000 tulips bloom on the Island each spring; in the summer and fall Windmill Island Gardens is overflowing with stunning annual and perennial gardens.
Nelis' Dutch Village, another popular attraction, is a recreation of an 1800's Dutch town; "kid-friendly", it boasts a petting zoo, imported Dutch carousel, pedal pumper cars, and a street organ that used to be pulled through the narrow streets of downtown Amsterdam. For adults, the Thirsty Dutchman Pub offers imported Dutch beers and cheeses, and for those who like to shop, the import shops are a real treat! (The park is open late April through mid-October; the import shops are open year 'round.)
Beyond the "Dutch stuff", downtown Holland is an award-winning shopping and dining destination, with over 100 shops, galleries and eateries, and features two micro-breweries, a beer bar with 70 craft brews on tap, and a wine-tasting room. (Holland is also home to two artisan distilleries.)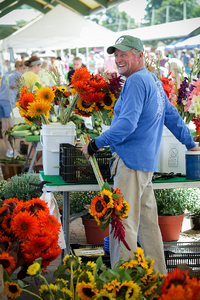 In summer, downtown Holland comes alive with the Thursday Night Street Performers Series, featuring over 30 genres of buskers – from musicians to magicians and aerial acrobats; Tuesday night brings free American Legion Band concerts in the beautiful waterfront Kollen Park, while the Friday night free concert series, also in Kollen Park, features a different type of music each week.
Fall brings Live Mannequin Night – the downtown storefronts literally come alive with "real people" posing as mannequins; GrooveWalk, in the fall and spring, brings live music downtown, with 10 genres of music in 10 different locations. The Groove Express, complete with musicians, takes folks from venue to venue should they decide they don't want to walk!
When winter arrives, you can "shop till you drop", thanks to our 'snow-free' downtown! Holland's unique snowmelt system pumps warm water through more than 125 miles of plastic tubing that is coiled beneath downtown's streets and sidewalks, keeping downtown virtually snow-free! The snowmelt system extends to our Farmers Market, so the Market remains open through mid-December. With over 90 vendors, the Holland Farmers Market is one of the best in the State! (In the summer, a Marketplace Chef Series occurs every Saturday at 10, with local chefs showcasing their culinary skills using the market's fresh produce, while Wednesday brings the ever-popular Children's Market activity.)
Holland is also host to an annual Dutch Winterfest celebration, a fun-filled downtown event featuring Sinterklaas, the Dutch St Nicholas, an open-air European Christmas Market called the Kerstmarkt, a lighted Santa Claus Parade, and an "Up on the Rooftops" homes tour, giving folks a peek at the living spaces above the shops lining downtown's bustling main street.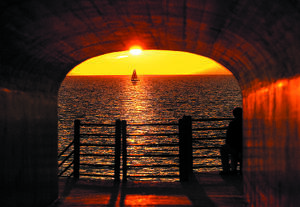 Of course we can't talk about Holland without mentioning Lake Michigan! Holland is home to beautiful white sand beaches, with Holland State Park being one of Michigan's most visited state parks; you can walk out onto the pier and watch the boats going through the channel, and if you're lucky, you may even spy an ocean-going freighter or a cruise ship coming into port. If you're up to the challenge, you can climb 272 stairs to the top of Mt. Pisgah, a dune adjacent to the State Park, for spectacular views of Lakes Michigan and Macatawa, as well as "Big Red", Holland's bright red lighthouse. Tunnel Park, a smaller county park, is two miles to the north, and boasts a great beach with a dune climb and playground. A concrete tunnel built through a sand dune leads you to Lake Michigan's sparkling waters.
No matter what the season, you'll find plenty to do in Holland, and with over 1,500 hotel rooms, B & B's, and other lodging properties, you'll have plenty of reasons to extend your stay! For more information, log onto www.holland.org. For other must-see Michigan destinations, read our blog "Michigan Destinations: Your Dream Trip Guide".