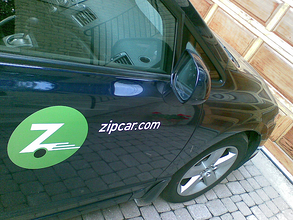 When it comes to transportation at America's colleges and universities, lets just say: Cars were then, campus shuttles, bike lanes, and ZipCars are now. When it comes to saving the planet, these and other initiatives mean that college campuses may be the greenest of them all.
For the last two decades, U.S. colleges and universities have been leading the green movement with sustainability initiatives like organic gardens and farms, "living machines" to manage wastewater, LEED- (Leadership in Energy & Environmental Design) certified buildings, and policies that promote renewable energy and carbon neutrality. There have also been widespread efforts to decrease student, faculty, and staff reliance on personal vehicles. According to a recent report from the Public Interest Research Group (PIRG)—"A New Course: How Innovative University Programs Are Reducing Driving on Campus and Creating New Models for Transportation"—the effort to reduce driving on campus does more than just cut down on carbon emissions. It's also "saving money for universities, improving the quality of life in college towns, and giving today's students experience in living life without depending on a personal car."
What's in it for colleges to reduce driving?
It helps the environment. One of the main reasons to cut down on driving is to reduce the environmental impact of cars. Less driving means fewer emissions and a smaller carbon footprint.
It alleviates congestion. Having a lot of cars on campus results in traffic congestion; fewer cars means less congestion.
It makes colleges better neighbors. In a college town, the seasonal influx of thousands of students with cars can strain relations with the neighboring community. For universities that want to be good neighbors, cutting down on traffic, noise, and emissions is a step in the right direction.
It reduces the demand for parking. Parking lots and garages are expensive, and they consume a lot of land that could be used for other purposes … like green buildings or open spaces. Plus, on-street parking is notoriously awful in college towns; reduced demand would open up more space for sidewalk cafés and bike lanes and ameliorate the agony of searching for a parking spot.
It keeps campuses safe and pedestrian-friendly. Walking and biking are healthy, safe, and inexpensive alternatives to driving; and, according to Walkable Princeton, less reliance on personal cars improves the quality of life in college towns.
It responds to student preferences. Young Americans are leading the trend toward less reliance on driving. The PIRG report found that "young people often prefer communities that are served by multiple transportation options rather than depending solely on a personal car." And everyone knows it's a lot cheaper to go to college without a car.
Universities that are serious about reducing driving are taking steps to help students and faculty get around without cars.
What Can Universities Do to Reduce Driving?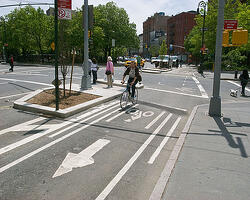 Promote biking. Biking is booming at American colleges and universities. The League of American Bicyclists designates institutions of higher education as "Bicycle Friendly Universities"—awarding platinum, gold, silver, or bronze status to schools that promote cycling by providing bike lanes, bike paths, bike racks, and bike sharing services. Schools get extra credit for offering bicycle safety classes, bicycle repair and maintenance facilities, showers and lockers for commuters, summer bike storage, and special riding events.
Promote walking. Colleges and college towns are, by their nature, supposed to be pedestrian friendly. Walkscore (which ranks cities and college towns in terms of bike friendliness, transit friendliness, and walkability) points out that "cars are expensive; walking is not." Walking is healthy for walkers and the environment; driving is not. Walkable campuses combine accessible transit with safe, pleasant walkways and proximity to residence, dining, academic, and social venues.
Encourage car sharing and ride sharing. Membership-based car sharing services (like Zipcar) are cropping up at hundreds of universities. In the case of Zipcar (which is owned by Avis), the company rents cars to college kids as needed (by the hour or the day), thereby virtually eliminating the need to have a car on campus. Ride sharing initiatives like Zimride match riders with drivers—whether it's for a one-time trip out of town or a daily commute. Some universities offer incentives to carpoolers and vanpoolers, such as free or reduced parking, reserved spots, and other rewards.
Offer free or reduced access to public transportation. Public and private universities (like the University of Michigan and Duke University, for example) have partnered with their area transportation authorities to provide transit options for their students and faculty—either free of charge or at reduced rates. Students at Duke get a free GoPass, allowing them to use Durham Area Transit Authority (DATA) and Triangle Transit buses (covering the Raleigh-Durham-Chapel Hill area) free of charge with a swipe of a card. An agreement between the University of Michigan and the Ann Arbor Area Transit Authority (AAATA), allows students, faculty, and staff to ride fixed public transportation routes free of charge.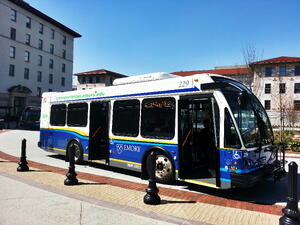 Provide shuttle buses. Many institutions provide free, university-run shuttle buses for students, faculty, and staff. The best shuttle services offer frequent trips, plenty of pick-up and drop-off locations, and a schedule that runs from early in the morning to late at night. State-of-the-art campus shuttle buses are handicap accessible, equipped with GPS for real time tracking (online and via smartphones), and have bike racks. Many of them run on biodiesel fuel blends.
At Western Michigan University in Kalamazoo, Bronco Transit (operated by Indian Trails) shuttles students to and from residence halls, academic and administrative buildings, campus events, and off-campus apartments starting as early as 7:05 a.m. and running as late as 12:32 a.m. daily. Students also ride Kalamazoo's Metro Transit buses for free, a perk that gives them access to off-campus dining, shopping, entertainment, Bronson Hospital, and the downtown transit station. With GPS tracking onboard Bronco buses, the same free smartphone app that lets students check football scores and dining hall menus also lets them track the whereabouts and arrival time of the next shuttle bus. All buses are outfitted with exterior "buscycle" racks for riders with bikes.
In upstate New York, students at the University at Buffalo-SUNY (UB) can ride the UB Stampede (operated by First Transit) 24 hours a day. The bright blue shuttle buses make many stops throughout the two sprawling campuses (North and South) and surrounding community, with pick-ups every five to ten minutes. Although 68% of UB's 29,850 students have their own cars, most drivers park in a commuter lot and ride the Stampede for the rest of the day. Buses run on a blend of standard diesel and biodiesel, have sport exterior racks for up to three bicycles, and are equipped with GPS systems for real-time tracking.
Princeton University's free shuttle service, TigerTransit (operated by First Transit) runs on a fixed schedule throughout the campus and surrounding community with routes from early morning to late at night. The Saturday Shopper bus—also free—goes to various popular shopping centers and grocery stores like Target, the MarketFair Mall, and Trader Joe's. TigerTransit also connects with Princeton, New Jersey's local "freeB" bus service and New Jersey Transit, where students qualify for discounted train, bus, and light rail passes.
Thanks to campus shuttles—and other initiatives aimed at saving the planet—American colleges and universities may very well be "the greenest of them all."