Looking for child-friendly educational destinations? Chicago is accessible by charter bus and offers world-class learning opportunities for student groups of all ages.
Every day in Chicago, children of all ages marvel at the mysteries of the universe, immerse themselves in four billion years of life on Earth, and witness 200,000 years of human ingenuity, imagination, and innovation first-hand. Here, kids can explore a Caribbean reef, descend a mineshaft, and travel a billion light years through space – sometimes all on the same day.
And no, they're not playing video games.
They are experiencing the magic that happens in four world-class museums—all located along a 10-mile stretch of the Lake Michigan shoreline in Chicago, all dedicated to science, and all, as you may have guessed, exceedingly child-friendly. Three of the institutions—the Shedd Aquarium, the Adler Planetarium, and the Field Museum of Natural History—are nestled together on a 57-acre plot of green space in Grant Park, officially known as the Museum Campus. The fourth—the Museum of Science and Industry—is a few miles south on Lake Shore Drive.
Adler Planetarium
1300 S Lake Shore Drive
(312) 922-7827
Monday - Friday: 9:30 a.m. - 4:00 p.m.
Saturday - Sunday: 9:30 a.m. - 4:30 pm.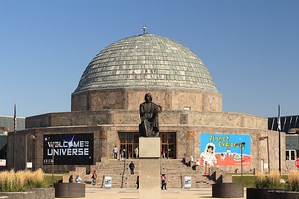 Founded in 1930, the Adler Planetarium is the oldest planetarium in the Western Hemisphere, offering interactive high tech exhibitions, a world-renowned collection of astronomy artifacts, and facilitated educational programs. But kids say the sky shows—six in all, in the world's most technologically advanced theaters—are the best part of the Adler Planetarium experience. "Cosmic Wonder" (30 minutes) describes how humankind, over time, pieced together an understanding of the cosmos. "Undiscovered Worlds" (30 minutes) explores the search for life in other galaxies. "Night Sky Now!" familiarizes students with the constellations, planets, and other objects they can find in the actual night sky. The newest sky show, "Welcome to the Universe," simulates the thrilling sensation of space travel and accompanies the newest permanent exhibition, "The Universe: A Walk Through Space and Time." Another popular exhibit, "Planet Explorers," lets kids experience how it feels to climb, crawl, and fly through space.
The Adler Planetarium can accommodate K-12 field trips, Scout badge programs, and adult groups.
Shedd Aquarium
1200 South Lakeshore Drive
(312) 939-2438
Open daily 9:00 a.m. - 6:00 p.m.
The largest indoor aquarium in the world, Chicago's Shedd Aquarium is home to more than 1,500 species living in diverse salt water and fresh water habitats (15 million gallons of water in all). There are beluga whales, sharks, dolphins, stingrays, piranhas, penguins, sea otters, jellyfish, turtles, iguanas, and pretty much any sea mammal, amphibian, or fish you can think of. Shedd's main purpose is to educate, and it offers many hands-on learning labs (complete with downloadable teachers' guides) for student groups of all ages—for example, Camouflaging Critters, Amazon Survival, and Lakeshore Ecology. One of the most exciting and memorable options for groups (ages five and up) is overnight. Here's a typical itinerary (from the Shedd Aquarium website):
6:30-8 p.m. Check-in, dinner, and time to explore the
Abbott Oceanarium
7:30 p.m. Event orientation and aquatic show
8-9:30 p.m. Planned activities in the aquarium galleries, exploration of
Wild Reef
9:30 p.m.
Caribbean Reef
dive presentation
10 p.m. Set up sleeping space, late-night snack, movie and game room open
11 p.m. Lights out!
6:30 a.m. Rise and shine, explore aquarium galleries
7 a.m. Breakfast
7:30 a.m. Explore
Abbott Oceanarium
8 a.m. Explore
Wild Reef
8:30 a.m. Depart
If you plan right, your morning departure would allow you to visit another museum before heading home.
The Field Museum
1400 South Lake Shore Drive
(312) 922-9410
Open daily 9:00 a.m. – 5:00 p.m.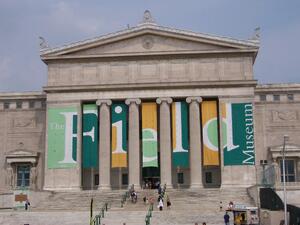 "The Field Museum inspires curiosity about life." These are the first words of the 120-year-old museum's mission statement and it pretty much says it all.
Since it would be impossible to cover the whole 400,000-square-foot Field Museum in a day, here are a few of the most important things for kids to see.
The museum's most celebrated resident is 65 million-year-old "Sue," the largest and most complete Tyrannosaurus rex fossil ever found. Evolving Planet is the dinosaur exhibit—a journey through four billion years of life on Earth. Underground Adventure "shrinks" visitors to the size of a bug to let them explore what goes on beneath the soil. Three of the most popular permanent exhibitions are Inside Ancient Egypt, Africa, and The Tsavo Lions; current special exhibits include The Machine Inside: Biomechanics, which investigates the marvels of natural engineering, and Extinct Madagascar: Exploring the Island's Past, which imagines the fantastical creatures that used to roam the island.
The Field Museum's Student Programs offer teachers and students a way to explore a specific topic and practice scientific practice skills on-site.
The Museum of Science and Industry
5700 South Lake Shore Drive
(773) 684-1414
Open daily from 9:30 a.m. to 4:00 p.m.
Closed Thanksgiving and Christmas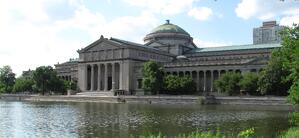 Right across the street from Lake Michigan, with nearly 2,000 hands-on exhibits and live science experiences, the sprawling, three-story Museum of Science and Industry (MSI) is one of Chicago's most visited and best loved museums. Among its 1.4 million annual visitors, 340,000 are school kids, making MSI the area's top field trip destination. Groups of 15 or more qualify for discounts, special itineraries, group activities, tours, and lunch options. With a goal of providing school groups with hands-on, real-world exposure to science, MSI offers on-site Learning Labs—facilitated, multi-disciplinary learning experiences that are aligned with the Common Core State Standards for science and technical subjects.
Not-to-be-missed exhibits: Coal Mine takes visitors on a guided tour into the depths of a simulated coal mine. Colleen Moore's Fairy Castle is a giant dollhouse filled with intricate hand-crafted miniatures (like tiny chandeliers with real diamonds and the world's smallest bible). Visitors to the U-5 Submarine (a real German submarine captured during World War II) get to climb through the hatch to explore the sights, sounds, and strategies of war at sea.
There's also the Idea Factory (limited to ages 10 and under) where kids can play with water cannons, blocks and cranks, and the five-story, domed, wrap-around Omnimax Theater—the only one like it in Chicago.
Chicago offers countless iconic experiences for children: the view from the John Hancock Building, a ride on the Ferris wheel at Navy Pier, a game at Wrigley Field, Millennium Park, Lake Michigan, and the giant pandas at the Brookfield Zoo, to name a few. But before they grow up, every kid should witness the magic of the Adler Planetarium, Shedd Aquarium, Field Museum, and the Museum of Science and Industry at least once.