Chicago -- one of the Midwest's great cultural destinations -- is "second city" to none when it comes to the art scene. From classical to avant-garde, here are some of Chicago's must-see's for art lovers.
Art Museums in Chicago
The Art Institute of Chicago
111 South Michigan Avenue
(312) 443-3600
Daily: 10:30 a.m. - 5:00 p.m.
Open Thursdays until 8:00 p.m.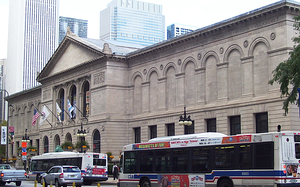 When Ferris Bueller took the day off in Chicago, one of his destinations (after his stops at the Sears Tower, Chicago Board of Trade, and Wrigley Field) was the Art Institute of Chicago—one of the largest, most comprehensive, and best loved art museums in the world. (It ranked #1 -- above the Louvre -- in the 2014 TripAdvisor Travelers' Choice awards for top museums.) With five centuries of global art in over one million square feet of exhibit space, the Art Institute calls its collection "encyclopedic"—meaning it strives to offer examples of every category of world art; but it's probably best known for Impressionist, Post-Impressionist, American, and modern art. It's worth the trip just to gaze at Georges Seurat's pointillist masterpiece, A Sunday Afternoon on the Island of La Grand Jatte (the one Ferris' friend, Cameron Frye, obsessed over) or Monet's Water Lilies. Other visitor favorites: Edward Hopper's Nighthawks, Vincent van Gogh's The Bedroom, Grant Wood's American Gothic, and Pablo Picasso's The Old Guitarist. Groups of 15 or more qualify for discounts, guided tours, and special dining options (choose from lunch, afternoon coffee, or wine and cheese served in the Millennium Park Room).
The Museum of Contemporary Art Chicago
220 East Chicago Avenue
(312) 280-2660
Tuesday: 10:00 a.m. - 8:00 p.m.
Wednesday - Sunday: 10:00 a.m. - 5:00 p.m.
(Extended hours during special exhibitions)
Closed Monday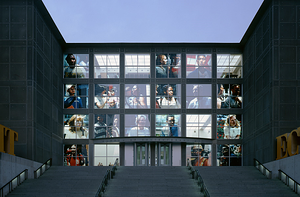 Since its founding in 1967 by a group of Chicago collectors and patrons, the Museum of Contemporary Art Chicago (MCA) has aspired to showcase the most thought-provoking art of our time. One of the nation's largest museums of its kind, the MCA is dedicated to visual art created since 1945, striving to "boldly interweave" painting, sculpture, film, video, and performance. The mobiles of Alexander Calder, the surrealist art of René Magritte, the pop art of Andy Warhol, and the neo-Dadaist paintings of Jasper Johns are among the museum's permanent collection, which contains some 5,700 works. Through its nearly 50 years, the MCA has earned an international reputation for presenting ground-breaking exhibitions—including a Robert Irwin installation in 1975, the first American exhibition of Frida Kahlo paintings in 1978, and a retrospective for Polish sculptor Magdalena Abakanowicz in 1982. Along with its permanent collection, the MCA brings in touring exhibitions, like its current offering, David Bowie Is: a multi-media "immersive journey" into Bowie's artistic life. For a treat, grab lunch or a snack at Puck's Café—a collaboration of celebrity chef Wolfgang Puck and the MCA. Your order is made fresh and delivered to your table, where you can savor the food, the colorful art, and views of Lake Michigan in equal measure. Groups are invited to book a private guided tour, led by museum educators and adapted to the interests and knowledge base of your group.
The National Museum of Mexican Art
1852 West 19th Street
(312) 738-1503
Tuesday - Sunday: 10:00 a.m. - 5:00 p.m.
Closed Monday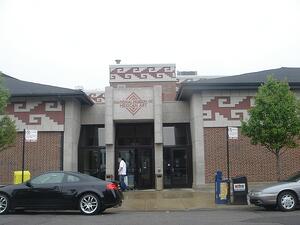 The National Museum of Mexican Art (NMMA) houses the largest collection of Latino art in the nation, and is the only Latino museum to receive accreditation from the American Association of Museums. Located in the Pilsen/Little Village neighborhood (also known as the Mexico of the Midwest), NMMA defines Mexican culture as sin fronteras (without borders), and seeks to showcase the diversity and quality of Mexican art from ancient times to the present. With more than 7,000 objects, the NMMA's collection features photography, ephemera, folk art, ancient artifacts, prints and drawings, paintings, and sculptures. Groups are welcome year round, and can reserve a 45-minute tour of the museum's permanent and temporary exhibitions (offered in English, Spanish, or bi-lingual)—a great way to learn about Mexican culture through the artwork on display.
• • •
Outsider Art in Chicago
Outsider art—sometimes called intuitive, visionary, or folk art—can be loosely defined as work created by self-taught artists and/or artists who are not part of the mainstream artistic establishment. Chicago is teeming with it. You'll find outsider art in galleries, studios, coffee shops, and book stores; it's also on viaduct walls, the sides of buildings, under overpasses, and on the street. It's no wonder that Chicago has gained an international reputation for attracting and supporting this unique category of visual art. Here are a few top venues.
Intuit: The Center for Intuitive and Outsider Art
756 North Milwaukee Avenue
(312) 243-9088
Tuesday - Saturday: 11:00 am - 6:00 pm
Open Thursdays until 7:30 pm
Closed Sunday and Monday
This 12,000 square foot space, in the Wicker Park/Bucktown neighborhood, houses 1,100 works, and is the only non-profit organization in the United States solely dedicated to exhibiting self-taught and outsider art. Established in 1991, Intuit serves as an exhibit space, a resource for scholars and students, and a provider of educational programming. Of particular interest to aficionados is the Henry Darger Room Collection, a permanent installation replicating the living quarters of the most celebrated outsider artist of all time – a reclusive hospital custodian from Chicago whose death in 1973 unearthed a 15,000-page original fantasy manuscript along with hundreds of drawings and watercolor illustrations. Groups can book a customized tour, complete with an introduction to Intuit, an overview of self-taught and outsider art, and a tour of current exhibitions.
The Flat Iron Arts Building
1579 N. Milwaukee Avenue
The Flat Iron Arts Building (a unique wedge-shaped structure at the intersections of Milwaukee, Damen, and North Avenues in the heart of Wicker Park) houses a community of working artists specializing in visual arts, music, and performance. The building is open to the public, so you're welcome to wander the three floors of studios and galleries, where you can watch artists at work or buy a one-of-a-kind piece of art. The best time to go is on the first Friday of the month ("First Fridays"), when resident and guest artists greet the public, display their work, put on spontaneous performances, and serve refreshments from 6:00 to 10:00 p.m.
Several commercial galleries are dedicated, at least in part, to showcasing the work of outsiders and/or lesser-known and emerging artists, including those from Chicago.
Judy Saslow Gallery
300 West Superior
(312) 943-0530
Tuesday-Friday: 11:00 a.m. - 6 pm
Saturday: 11:00 a.m. - 5:00 p.m.
Closed Sunday and Monday
Established in 1995 to showcase the art of European outsiders, the Judy A. Saslow Gallery now exhibits contemporary art by established, emerging, and outsider artists along with a stunning collection of tribal artifacts and jewelry from around the world.
Carl Hammer Gallery
740 North Wells
(312) 266-8512
Tuesday - Friday: 11:00 a.m. - 6:00 p.m.
Saturday: 11:00 a.m. - 5:00 p.m.
Opening receptions from 6:00 - 8:00 p.m. on first date of scheduled exhibitions
Closed Sunday and Monday
The Carl Hammer Gallery specializes in contemporary, outsider, and non-mainstream art by American and European artists, including pieces by Lee Godie and Henry Darger.
Packer Schopf Gallery
942 West Lake Street
(312) 226-8984
Tuesday - Saturday: 11:00 a.m. - 5:30 p.m.
Closed Sunday and Monday
Before teaming up with Chicago attorney and investor William Schopf in 2006, Aron Packer collected and sold folk art, and has always been drawn to such ephemera as hand-carved canes, original tattoo drawings, sideshow banners, and handmade quilts. This sensibility is evident at the Packer Schopf Gallery, where Packer describes the collection he curates as "obscure, idiosyncratic, and the road not obviously taken."
Project Onward
Bridgeport Art Center
1200 West 35
th
Street, 4
th
Floor
(312) 940-2992
Tuesday - Saturday, 11:00 a.m. - 5:00 p.m.
When art critic Roger Cardinal coined the term "outsider art" in 1972 (as an English equivalent of the French "art brut," which literally means "rough art" or "raw art"), he may have been imagining something like Project Onward, a nonprofit studio and art gallery for professional artists with mental illness and developmental disabilities. Project Onward occupies 13,000 square feet of studio and gallery space, where 45 member artists create, exhibit, and sell their art.
• • •
Public Art in Chicago
If you visit Chicago to see art, don't overlook the world-class collection of public art on display throughout the city, especially in the downtown city center known as the Loop. In fact, the Loop has been compared to an "open air museum of sculpture," featuring the works of Picasso, Calder, and Miro alongside many lesser-known treasures -- all adding to Chicago's distinctive character.
A
walking tour
can be completed in around two hours and will take you past the Chicago Board of Trade, the Sears Tower, and Millennium Park.