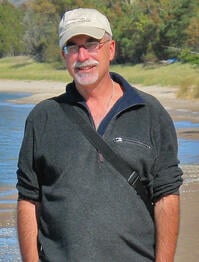 As the Media Relations Writer for Traverse City Tourism, Mike Norton is your go-to when looking to charter a bus to Traverse City.
By Mike Norton
On the unspoiled northeastern shore of Lake Michigan, there's a place of deep clear water, pine-scented forests and endless sandy beaches. It's called Traverse City, and it's like no other place on earth.
I never intended to live in Traverse City -- I came here for a job. But very quickly this place started getting to me. The beaches here are as lovely as any place else I've ever been, the weather is mild all year round — warm enough for swimming in September and cold enough for skiing in December — and just about the time you're getting tired of one season you get another one every bit as pleasant. The people are laid-back and friendly, the music and arts scene is awesome, and the place still hasn't gotten so sophisticated that a guy like me feels out of place.
Nestled along the deep blue waters of Grand Traverse Bay, this relaxed community of 15,000 people is the cultural and social center of a four-season recreational paradise. Here you can relax on a magnificent golden beach, enjoy a round of championship golf, or amble through the shops and stores of a friendly, tree-shaded downtown. You can cast your line into one of America's most famous trout streams, steer a schooner down the bay, or pick a quart of fresh cherries straight off the tree.
Carved by ancient glaciers, the long deep lakes and roller-coaster hills of the Traverse City area are a sight to see. Perhaps the best example of this beauty is the Sleeping Bear Dunes National Lakeshore, a 64-mile curve of beaches, coves, islands and hills that was voted "Most Beautiful Place in America" by viewers of Good Morning America. It's a wonderful place for a hike, a beach picnic, a scenic drive or even a ferryboat excursion.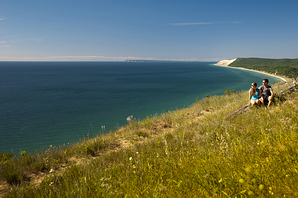 Thanks to its many bays, coves and islands, the Traverse City area has 234 miles of continuous Lake Michigan shoreline, and the sheltered waters of Grand Traverse Bay are a sailor's paradise. The town is surrounded by thousands of acres of national and state park and forest with miles of trails for hiking and cycling, while its streams and rivers of this region are perfect for canoes and kayaks.
The region's distinctive landscape has attracted talented golf architects like Jack Nicklaus, Tom Weiskopf, Arnold Palmer and Gary Player, who have helped turn Traverse City into one of America's best golf destinations. Golf Magazine selected Traverse City as one of America's top six golf regions (they call it "America's summer golf capital"), and Golf Digest gave it the No. 12 spot on its list of the world's 50 top golf destinations.
Fortunately, those heart-stopping views don't disappear when summer is over. Autumn here is a gentler, more romantic season -- a time of crisp clear mornings, mellow golden afternoons and cool, lingering evenings. The summer crowds have vanished with summer's heat, and by late September the hills are ablaze with color. (TripAdvisor.com calls it one of America's Top 10 fall foliage destinations!)
As winter arrives, the entire region becomes a sparkling white playground for skiers, snowmobilers and snowshoe hikers. More than 200 miles of the country's finest and most diverse ski and snowmobiling trails are in the enchanted Boardman and Jordan River valleys, and the downhill skiing at Shanty Creek is some of the best in the Great Lakes region.
Traverse City is rich in history, too. Reminders of the past are everywhere: lonely lighthouses and humble mission churches, grand old hotels, quaint summer cottages and the palatial homes of lumber barons. Picturesque villages like Suttons Bay, Bellaire, Leland, Old Mission and Glen Arbor are filled with hidden byways, cozy studios and quaint shops. Traverse City's tree-shaded and pedestrian-friendly downtown is a great shopping destination – and so is the Village at Grand Traverse Commons, a former mental asylum whose castle-like buildings are being transformed into a community of shops, restaurants and homes.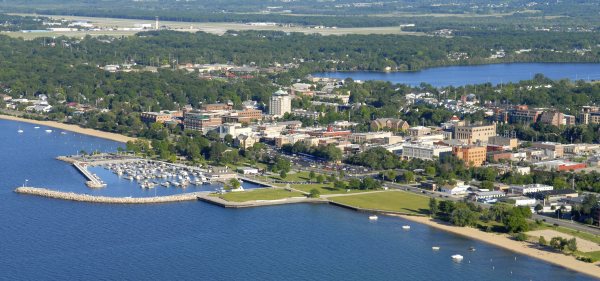 Long known as the Cherry Capital of the World, Traverse City is now establishing an international reputation as a wine and craft brewing destination. The Leelanau and Old Mission peninsulas are dotted with vineyards and wineries that consistently bring home awards from regional, national and international competitions. Talented and inventive new chefs are also making their presence felt throughout the region, developing a homegrown cuisine based on fresh local ingredients from our woods, waters and farms.
For nearly a century artists, craftsmen and musicians have made their homes in and around Traverse City, giving the community a surprisingly rich cultural life and providing almost endless opportunities for shopping and browsing in its many galleries and studios.
Can you see why I'm hooked?
For more Michigan destination ideas, visit our blog.