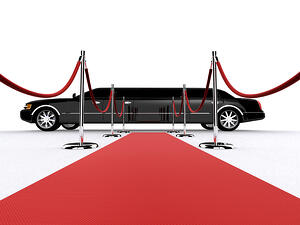 Long, long ago—in a land before the luxury motorcoach, in an age when private bus rental was but a distant dream—there were no party buses, no limousines. In fact, there were two kinds of buses: the yellow school bus and the Greyhound bus. The former took you to school and back; the latter took you everywhere else you needed to go.
Today, according to the Bureau of Transportation Statistics, the charter bus industry accounts for $6 billion in annual sales, with more than 35,000 private charter buses available for hire throughout the United States. But what, exactly, constitutes a charter bus?
To answer that question, we've compiled a little "cheat sheet" to familiarize you with all the different kinds of vehicles available for charter.
• • •
PARTY BUS
Also Known As: Limo Bus, Party Van, Party Ride
Seating Capacity: Party buses come in different sizes, and can accommodate anywhere from 10 to 60 or more guests.
Description: A party bus is a luxury motor vehicle—either a bus, van, or limousine—designed to transport 10 or more people to a party, celebration, or special event. Party buses are sometimes modified to provide wrap-around limousine-style seating and special features like strobe lights, fog machines, dance floors, wet bars, and—brace yourself— stripper poles.
Typical Customer: Party-goers! A party bus is often the ride of choice for bachelor/bachelorette parties, weddings, proms, office parties, graduations, concerts or any other event where people want to be together and celebrate.
Benefits: Bottom line: Partiers can enjoy themselves and leave the driving to a sober professional. A party bus rental is cheaper, safer, and a lot more fun than driving.
Insider Tip: Get the most out of the multimedia aboard party buses. Load up your iPod, smartphone, or flash drive with your music playlist in advance. If the bus has flat screen TVs, consider setting up a video or slide show for your party.
Read 10 do's and don'ts of booking a party bus here!
• • •
MOTORCOACH
Also Known As: Full-size Motorcoach, Luxury Motorcoach, Charter Bus, Tour Bus
Seating Capacity: Full-size motorcoaches are built in a few sizes—all of them large—with seating capacity ranging from 45 to 57.
Description: A full size motorcoach typically has a roomy interior and luxury appointments like reclining seats with footrests and headrests, individual climate and lighting controls, cup holders, overhead parcel racks, an onboard restroom, and plenty of underbody storage space for luggage. Passengers can expect amenities like WiFi, 110V outlets, public address systems, and DVD players, plus safety features like directional and diagnostic GPS. Many charter bus companies have one or more handicap-accessible coaches in their fleets, with wheelchair lifts and flexible seating arrangements to accommodate wheelchairs.
Typical Customer: A motorcoach charter is ideal for sports teams, church groups, social clubs, professional organizations, schools, companies, families, and other groups traveling together out of town. For day trips, overnights, and multi-day excursions, groups appreciate the roominess, cargo space, onboard restrooms, and other amenities found on a charter bus.
Benefits: Travel planners say that charter buses are cost-effective, convenient, and very comfortable. Plus, they're reliable. Everyone gets to the right place, at the right time, as a group. (No one gets a late start, no one gets lost, no one has car trouble, no one runs out of gas …) Having avoided the hassle and expense of driving and parking, your group arrives relaxed, refreshed, and ready for work or play.
Insider tip: You can't beat the convenience of having your own personal bus and driver at your disposal for local transportation once you've arrived at your destination.
• • •
MINIBUS
Also Known As: Mini Charter Bus, Mini Coach, Mid Coach
Seating Capacity: 18 – 39 depending on the vehicle.
Description: A lot of minibuses offer the same luxurious amenities as larger motorcoaches, such as reclining seats, climate and lighting controls, tinted windows, free WiFi, and DVD players. Your minibus may or may not be equipped with an onboard restroom. Most have overhead parcel racks; most do not have underbody luggage compartments.
Typical Customer: A minibus is ideal for shorter-distance trips and/or smaller groups. For example, a company's sales department might use a minibus to transport employees to a meeting or retreat; a social club might book a minibus for an afternoon museum tour, shopping trip, or live performance; a Cub Scout den might charter a minibus for a field trip or cookout; a group of friends or coworkers might rent a minibus to go to a concert or sporting event.
Benefits: A charter takes the stress out of transporting a group. There's no need for a designated driver, no need for multiple vehicles, and none of the hassles that go along with traffic, parking, and navigating in an unfamiliar area.
Insider tip: Renting a minibus is surprisingly affordable. When a motorcoach is too big and a shuttle bus is too small, a lot of travel planners find minibuses to be "just right."
• • •
SHUTTLE BUS
Also Known As: Shuttle bus, Shuttle Van, Passenger Van, Luxury Van, Club Wagon
Seating Capacity: Shuttle vehicles can carry between 7 and 70 passengers.
Description: Shuttle buses can vary in size and scope. The term really applies to the act of shuttling passengers. These vehicles can be anything from full size passenger vans to buses that are 35-40 feet long and carry up to 70 people. Often, vans that are fitted for shuttle service will have extra features like more comfortable seats, tinted windows, central heating and air-conditioning, and an audio system. Some may be fitted with facing seats.
Typical Customer: Large convention groups, shoppers from residence to a mall or store (http://www.indiantrails.com/sites/default/files/wmrt/index.html), corporate, executives, air travelers in need of an airport transfer, party and event planners, and vacationing families are among those who might charter a shuttle bus. When a group of any size needs to get from one location to another within the same vicinity, a shuttle bus is often the best solution. For example: If you were hosting a group of visiting executives or delegates from your parent company, you might charter a shuttle bus to transport them between the airport, your office, a downtown restaurant, and their hotel. If you invited out-of-towners to attend a retirement party or wedding, you might book a shuttle to transport your guests between the airport, hotel, and the reception venue. The shuttle could transport a small group of riders to thousands of riders, as the occasion requires.
Benefits: A shuttle bus is more convenient and cost effective than renting multiple cars or taking taxicabs. Whether using it for simple airport transfer or booking it for multiple days, a shuttle lets your visitors to focus on the meeting, or party, or whatever you've planned for them.
Insider Tip: Chartering a shuttle bus with a group of friends (to a concert, ballgame, or festival) could be more efficient than driving and parking separate cars.
• • •
STRETCH LIMOUSINE
Also Known As: Stretch (or Super Stretch, depending on the size), Limo, Limousine
Seating Capacity: A stretch limo seats up to six passengers; a super-stretch can seat up to 12.
Description: You've seen them. They're those loooooong, glamorous rides that turn heads wherever they go—making everyone wonder who might be sipping champagne behind the tinted windows. A chauffer-driven limousine is considered by many to be the epitome of elegance, luxury, and class on wheels. Expect plush perimeter seating, a wet bar, surround sound, mood lighting, and a privacy divider. There may even be champagne flutes.
Typical Customer: Wedding parties, high school kids going to the prom, celebrities going to a red carpet event, couples celebrating an engagement or anniversary, groups going out for a night on the town, James Bond, and people who live to make their friends and neighbors jealous.
Benefits: A stretch limo makes sense for people who want a luxurious, memorable, once-in-a-lifetime experience and don't want to worry about a designated driver. So, a stretch could make sense for a bachelorette party (where guests may have "a drink or two") … a wedding party that wants to travel in style and arrive at the venue together … or a night out with an important corporate client.
Insider tip: Limousines can usually be chartered by the hour or the day.
• • •
EXECUTIVE SEDAN
Also Known As: Luxury Sedan, Black Car, Town Car, Executive Car, or just Car—as in, "I'll send a car to meet you at the airport."
Seating Capacity: 1 to 3 passengers
Description: Executive sedans are equipped with luxurious leather seating, tinted privacy windows, individual climate controls, sound system, and WiFi on request.
Typical Customer: Luxury sedans are for executives who prefer to use their travel time for work or relaxation, meeting planners who want to roll out the red carpet for VIP guests, someone who wants to add a touch of class to a special occasion or night on the town, and business travelers who want private transport between airport, hotel, and meetings.
Benefits: An executive car with a private driver is comfortable, convenient, customized transportation that makes a statement.
Insider tip: Executive sedans are usually chartered by the hour, with a minimum of three hours.
• • •
OTHER OPTIONS:
Depending on where you live, there may be other options for vehicles to charter:
Sleeper buses (also known as Entertainers) are converted motorcoaches with sleeping berths and galleys for touring groups (like rock and roll bands or movie crews).
Trolleys and double decker buses are popular in cities like Boston and Chicago for sightseeing tours, family reunions, and special events.
For those who want to feel like Cinderella, you can even rent a horse-drawn carriage for the evening … guaranteed not to turn into a pumpkin at midnight.