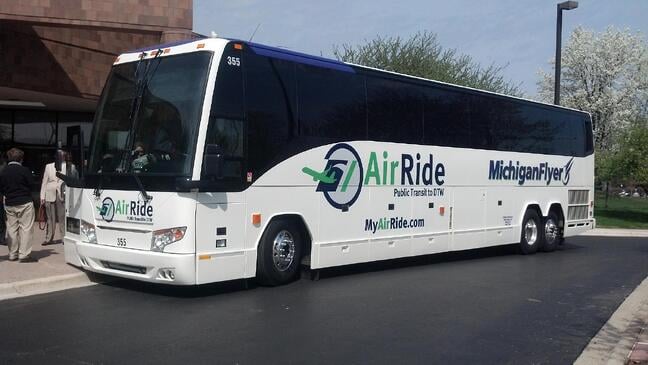 In 2006, Lansing and Ann Arbor Michigan got a wonderful new airport shuttle transportation service, the Michigan Flyer. The Michigan Flyer bus shuttle is such a handy airport shuttle that it sparked the idea to do a blog about airport shuttles. They are one of the best loved services that bus companies provide.
When you think about it, an airport is a lot like a city, with many of the same concerns and priorities a city has: sanitation, utilities, land usage, public safety, and—possibly the most challenging of all—transportation. After all, an airport spans literally thousands of acres of land occupied by terminals, runways, hangars, parking lots, and other facilities—plus countless venues for eating, shopping, socializing, personal care (massage, anyone?), and even prayer. With an estimated 1.7 million passengers flying in and out of U.S. airports every day—under the constraints of rigid departure times and exacting security procedures—airports must make liberal use of moving sidewalks, shuttle buses, mobile lounges, and automated people movers to get passengers to their far-flung terminals, concourses, and gates all day every day.
But before all those people can get around the airport, they first have to get to the airport.
How do you get to the airport?
You can still get to the airport the old-fashioned way: Somebody (preferably somebody who loves you) drives you there. This scenario comes complete with curbside hugs, an obligatory reminder to check for your boarding pass and photo i.d., and a promise to call or text the moment the plane lands.

You can take a taxicab. Depending on where you live or where you're staying, this may be as simple as hailing a cab on the street … or, if you live in the suburbs, it will mean calling a reputable company a day ahead and scheduling a pick-up. Fares range from around $1.80 per mile to around $3.60, plus an initial fee ranging from $1.50 to $3.50.

You can drive yourself and park in a long-term garage or remote parking lot. Plan to spend anywhere from $8 to $25 per day, and be sure to leave enough time to catch an airport shuttle (typically frequent and free) to your terminal.
Other airport transportation options
Considering what we know about traffic congestion, fuel prices, parking hassles, and carbon emissions, it's not surprising that travelers want other options for getting to the airport. Across the country, airport authorities—in cooperation with public transit systems, scheduled buses, and private rideshare or charter operators—are responding with airport transportation options in every price range.
Public Transportation: Airport Rail Links
For decades, air travelers in Europe and Asia have been able to hop on public transportation to get from city centers to the airport or from the airport to city centers. Several U.S. cities have taken a cue from their international peers and extended their rapid transit lines to area airports—with onsite stations within walking or shuttle distance to departure gates. The Transportation Research Board ranked 27 airports with rail link systems, on the basis of market share and overall success of the system.
A few of the services the study identified as "best practices":
At San Francisco International Airport, a Bay Area Rapid Transit (BART) station is located within the international terminal, offering bus and rail service throughout the Bay area. Domestic passengers transfer to the automated people mover to reach their gates.
Four miles from downtown Washington D.C., Reagan Washington National Airport was reconfigured in the late 1990s to accommodate an integrated air-rail terminal, built around an existing Metro station.
Hartsfield-Jackson Atlanta International Airport, the nation's largest airport, has a Metropolitan Atlanta Rapid Transit Authority (MARTA) rail station in the arrival area of the main terminal, steps away from baggage claim.
Denver's Regional Transportation District (RTD) operates the SkyRide bus service from six metropolitan locations to Denver International Airport at the baggage claim level, with service from 3:20 a.m. to 1:00 a.m., depending on the route.
Chicago's O'Hare International Airport is served by the Chicago Transit Authority (CTA) Blue Line train service (the "L") via elevated and subway trains that travel throughout Chicagoland and terminate in the lower level of Terminal 2. From there, passengers can walk or use the Airport Transit System (ATS), which connects all terminals and remote parking lots.
Scheduled Buses
In the world of airport transportation, scheduled bus service refers to a dedicated bus that shuttles passengers between a local airport and one or more regional destinations along a fixed route. These airport shuttles are typically operated by private companies licensed by a regional department of transportation or airport authority. They are cost effective (anywhere from $8 to $30 per one way, flat-rate ticket) and reliable. Passengers can enjoy the deluxe amenities that come with luxury motorcoaches: WiFi, 110V outlets, DVD players, and reclining seats with individual climate and light controls, overhead racks, and room to stow luggage. Typically, scheduled buses drop off and pick up passengers at a designated spot at the airport.
Top performing operators from three U.S. regions (based on criteria established by the Transportation Research Board—including frequency of service, pick-up and drop-off locations, and the availability of express or semi-express service):
Michigan Flyer-AirRide is a public-private partnership between a private motorcoach company, Indian Trails, and the Ann Arbor Transportation Authority ("TheRide"), offering 12 daily round trips between East Lansing, Ann Arbor, and Detroit Metropolitan Airport and one daily trip between Ann Arbor and DTW.
Los Angeles International Aiport (LAX) –

FlyAway
FlyAway is a shuttle bus service established and funded by LA's airport authority—Los Angeles World Airports (LAWA)—as part of a ground transportation initiative to improve traffic congestion, reduce vehicle emissions, and increase passenger convenience. Each year, branded FlyAway buses (operated by private companies under contract with LAWA) transport 1.5 million passengers between LAX and five transit stations, with Union Station routes running every half hour from 12:00 a.m. to 11:30 p.m. seven days a week.
John F. Kennedy International Airport (JFK) and LaGuardia Airport (LGA) –

NYC Airporter
NYC Airporter is the official shuttle bus operator for the Department of Transportation and Port Authority of New York and New Jersey, offering shuttles between Manhattan and New York City airports (JFK and LGA). Privately operated buses transport passengers from 5:00 a.m. to 11:30 p.m. daily.
Shared Rides and Charter Buses
Shared-ride vans and charter buses offer pre-arranged door-to-door ground transportation service for a set price (either a per-passenger price or a flat rate for the vehicle). The most common shared-ride vehicle is an eight-passenger van, but transportation companies also use SUVs, station wagons, executive limousines, and motorcoaches. Typically door-to-door, shared-ride vans and charter buses are pricier than the other options (somewhere between the cost of public transportation and a private taxi cab) but can be surprisingly affordable if you have a large group. This is the transportation of choice for conference planners, executives, and special event coordinators who want to oversee all the travel details and transport their people in style. This is the airport transportation mode you might select if you were entertaining out-of-town guests for a wedding, or hosting visiting executives for a factory tour.
Next time you're planning airport transportation for yourself or a group, consider one of the many options—public transit, scheduled buses, or shared rides—for getting from here to there.