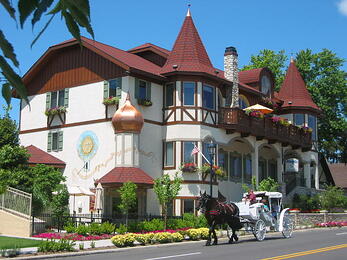 If you belong to a professional, social, or special interest club, you've done the golf outings. You've done the luncheons with guest speakers. Maybe you even went a little crazy one year and did a garden tour or attended a fashion show. (Yawn.) Sorry, but isn't it time for your group to do something completely different? With a bus charter, planning a memorable day trip is easy, affordable, and fun.
Start by choosing a destination that is friendly to charter bus groups – like Frankenmuth, Michigan, 75 miles northeast of Lansing.
When your bus pulls into the quaint and picturesque downtown, you'll think you've stumbled upon a Bavarian theme park. The Alpine architecture and gingerbread houses; the giant Glockenspiel on Main Street; the shopkeepers and restaurant servers dressed in lederhosen and dirndl dresses — everything you encounter here makes you feel like a character in a German fairytale.
This is Frankenmuth—also known as "Michigan's Little Bavaria"—where Bavarian tradition is more than just a gimmick. The folks in this proud town take their wiener schnitzel seriously. Most Frankenmuth residents trace their roots to the German Lutheran missionaries who settled here in 1845 intent on converting the area's Chippewa Indians to Christianity. The Chippewa moved on; the missionaries stayed. Soon, Frankenmuth began to focus its attention on the tourist trade, attracting visitors with its special brand of old world hospitality and the chicken dinners that have been the town's mainstay since 1895.
Make no mistake about it: This town is a tourist town. Some might even call it a tourist trap. But it's a fun day trip by charter bus: easy to get to, clean and friendly, with lots to see, do, buy, and eat. What more can you ask of a day trip?
With 60 billboards in seven states advertising the world's largest Christmas store, chances are you've heard of Bronner's Christmas Wonderland. But you have to see it to believe it. Charter buses are commonplace here. Your driver can drop you off at a canopy-covered entrance and park in one of the 50 spots designated just for buses. But he or she will want to come in: bus drivers get a free Christmas ornament. Give yourself anywhere from one to two-and-a-half hours for what can only be described as an experience. This store occupies 320,000 square feet (try to picture five and a half football fields) with 12 departments filled to the rafters with ornaments, trims, nativity scenes, Christmas trees, decorations, nutcrackers, toys, Christmas stockings, collectables, animated characters, and people—throngs of people. Two million people come to Bronner's from near and far every year just to marvel at the sight. There's nothing quite like it. Actually, there's not anything like it: 100,000 ornaments, 50,000 trims, 500 nativity scenes, 300 decorated Christmas trees, hundreds of wreaths . . . and many partridges in many pear trees. If someone in your group is fainthearted (or lightheaded), there is an alternative activity, made possible by a stroke of marketing genius on the part of the wildly successful Bronner family: In the lobby of the world's largest Christmas store is a giant flat screen TV, perpetually tuned to a major sporting event, with rows and rows of spectators' chairs. Let 'em shop 'til they drop. The Redwings just scored.
Back on the bus, your next stop is Main Street, where your driver will find plenty of parking close to the Visitor Information Center (635 S. Main Street), a great resource for maps, brochures, and advice on local attractions.
There are all kinds of interesting stores in the vicinity of Main Street, many of them offering demonstrations, displays, and tours. At the Frankenmuth Cheesehaus, home of 140 cheeses and specialty foods, you can watch the making of chocolate cheese and cheese spread. At the Covered Bridge and Leather Gift Shop, you can watch a video showing the construction of Frankenmuth's covered bridge or catch a leather tooling demonstration. The Frankenmuth Clock Company has a huge collection of German cuckoo clocks. Rau's Country Store is famous for "nostalgic candy" plus every imaginable dollhouse miniature, including some one-of-a-kind items. Family-owned and operated since 1949, Kern's Sausages, at the corner of Jefferson and Main, sells 34 varieties of homemade Bavarian sausages, along with cheese, bakery goods, and German food items. And there are dozens more.
There are also dozens of places to eat in Frankenmuth. But if your group is having only one meal in town, forget about all of those other places and sit yourselves down for an all-you-can-eat, family style chicken dinner at Zehnders or the Bavarian Inn (separately owned and operated by members of the Zehnder family). Make a reservation, and either historic eatery will accommodate your large group effortlessly (the Bavarian Inn can seat up to 1,200 in its 12 dining rooms; Zehnders seats 1,500). For around $20 per person, you get platter after platter of homemade, hot, tasty fried chicken—all you can eat, no questions asked—plus chicken noodle soup, coleslaw, fresh baked bread, mashed potatoes and gravy, dressing, buttered noodles, a hot vegetable (such as locally grown squash), and ice cream. While family style chicken dinners are the specialty of the house, both restaurants offer other selections, as well as children's menus.
After Dinner
May through October, the Bavarian Belle Riverboat offers relaxing one-hour narrated tours of the Cass River on a paddlewheel riverboat ($9 per person for groups of 20 or more). Or you can take a horse-drawn carriage ride through the streets of historic Frankenmuth ($40 per person for a 15 minute ride). You may want to end your evening with an award-winning beer at Michigan's oldest brewery, Frankenmuth Brewery.
And there you have it. A little shopping, a little eating, a little sightseeing, a couple of beers, people you enjoy and a seat that reclines for your bus ride home. Not a bad way to spend the day. Looking for the perfect charter bus to help you on your adventure? Look no further. Read our blog for additional Michigan destinations to travel to with your group.