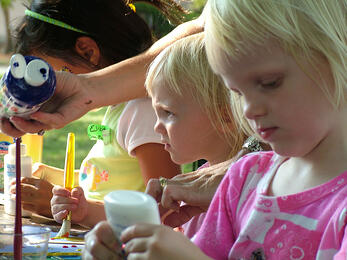 Art fairs are at the top of everyone's list of tour bus rental ideas for summer in Michigan.
Around the time when the first daffodils and hyacinths start popping up, so do the rows of little white tents. You know the ones: those unassuming 10' x 10' booths that line a city's downtown streets for one glorious weekend every summer, revealing—like Ali Baba's cave—a treasure trove to all who enter. Inside, you'll find colorful displays of jewelry, textiles, sculpture, glass, woodwork, paintings, ceramics, photographs, even toys. Outside, familiar streets are transformed: overflowing with pedestrians, food vendors, children's activities, and live entertainment.
Michiganders flock to these fairs (with visions of waffle cones, painted-faced toddlers, and the perfect garden sculpture dancing in their heads). But along with the magic, art fairs also portend street closures, traffic detours, and the inevitable trudge (with aching feet and oversized packages) to a remote parking garage or muddy field at the end of the day.
There is a better way.
Charter a bus! Art fairs offer something for everyone, so they make an ideal day trip—or even a weekend getaway—for all kinds of groups. And when you're traveling with a group, chartering a motorcoach is affordable, convenient, and fun. Consider the benefits:
You can enjoy a comfortable air-conditioned ride with luxurious amenities;
Your group gets to spend time together in transit instead of driving to the destination in separate cars.
You won't have to negotiate street closures, event traffic, or parking. It's taken care of.
Art fairs are staged in interesting places (like Ann Arbor or Charlevoix); a bus at your disposable gives you the freedom to explore the area's dining, scenery, and other attractions (maybe even an overnight stay in a B & B) in conjunction with your art fair visit.
If (when) the beer tent beckons, you won't have to worry about a designated driver. You already have one.
Here, in brief, are some of the top art fairs this summer in Michigan.


Saturday, June 14 – Sunday, June 15, 2014
The Royal Oak Chamber of Commerce will sponsor the 20th annual Clay, Glass & Metal Show in June, bringing 125 artists to Washington Avenue where they will display fine jewelry, decorative art, pottery, beads, and architectural pieces that share one thing in common: All of the art featured at the show "is manipulated by heat and comes from the earth." Visitors can watch demonstrations in metal work, glass, and pottery; participate in family-friendly hands-on activities; and enjoy specialty foods.
Saturday, July 12 – Sunday, July 13, 2014
For 53 years, the Krasl Art Center has sponsored the Krasl Art Fair on the Bluff, one of the nation's top-rated juried art fairs. This year, 200 artists will draw an estimated 70,000 visitors to St. Joseph, the southernmost west Michigan lakeshore towns designated as "Michigan Beachtowns." Along with the art, festival guests can sample local, organic, and farm-to-table food items and listen to Smooth Jazz at Sunset, a Saturday night concert featuring saxophonist Jessy J.


Wednesday, July 16 – Saturday, July 19, 2014
The granddaddy of all art fairs, the Ann Arbor Art Fair is actually four distinct art fairs, making this annual event the largest outdoor art experience in the country. That means a virtually endless selection of fine art and crafts—from decorative to functional, from wearable to collectible. It also means 600,000 visitors descend upon Ann Arbor over a four day period in July. The Ann Arbor Art Fair is notoriously crowded. Pull up in your private motorcoach and you will be the envy of the throngs. Here's a quick rundown of the four fairs. Check out the official website for details.
The Ann Arbor Street Art Fair, the Original (the oldest of the art fairs, established in 1960) is located on the University of Michigan's central campus in the shadow of the Burton Memorial Tower. Featuring 200 artists, hands-on activities, and live performances, the Ann Arbor Street Art Fair consistently ranks on AmericanStyle magazine's "Top 25 Fairs & Festivals" list.
The State Street Area Art Fair (produced by the State Street Area Association since 1970), offers a mix of contemporary art, traditional crafts, and area merchant displays in the university's downtown area.
The Ann Arbor Summer Art Fair (established in 1972 by the Guild of Artists and Artisans) transforms Ann Arbor's Main Street business district into a festival showcasing fine art, crafts, entertainment, artist demonstrations, and children's activities. The Summer Art Fair also has a campus location on State Street.
Ann Arbor's South University Art Fair (established in 2002), is the venue for emerging artists (local and international) with a hip and quirky vibe all its own.
Saturday, August 9, 2014
Every August, this juried and invitational show draws 25,000 art lovers to the northern Michigan resort town of Charlevoix, bordering Round Lake, Lake Charlevoix, and Lake Michigan. For your quintessential "up north" vacation, check out the area's golf courses, sailing, bike trails, dining, shopping, performance pavilions, and beautiful beaches.
Friday, September 5 – Sunday, September 7, 2014
An annual production of Paint Creek Center for the Arts, the Art & Apples Festival is the second largest juried fine art fair in Michigan, with 290 artists and 125,000 art lovers converging in downtown Rochester every September. There's art, live performances, an Art Zone and Activity Zone for kids, three food courts and – you guessed it – lots of apple treats, including homemade apple pies.
Any one of these art fairs can be the centerpiece of a day trip or weekend getaway to an interesting area you've been meaning to explore. Whatever your destination this summer, a luxury motorcoach can take you there.
For more ideas about Michigan art fairs and excursions, check out the Art Fair Calendar, or the group trip ideas blog!