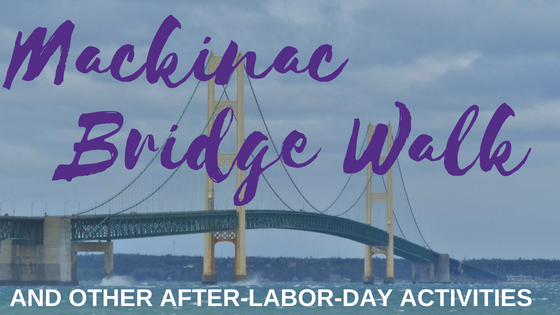 Summer trips in the Great Lakes region can be incredible, but the fun doesn't stop at Labor Day. If your group is looking for fun on and after the holiday, why not begin at the 61st Annual Mackinac Bridge Walk? After that there's plenty more to do and see in the area!
Head For the Tip of the Mitten
This year, Labor Day is on Monday, September 3, so pencil the Mackinac Bridge Walk into your itinerary. For the first time, the Mackinac Bridge Authority is changing things up so that walkers can walk the five-mile length of the Mighty Mac by walking to the center of the bridge and then back to their starting point. This eliminates the need for mass transportation of walkers who start on one side and end up on the other. Walkers can still traverse the entire span but must arrange their own transportation back to their starting point. Ambitious walkers can also walk across and back if they are physically capable of a 10-mile hike. The Bridge Walk is finished at noon, but there's plenty more to do and see.
A Magical History Tour
Let's start with Mackinaw City, a place immersed in the history of our state and our country. A visit to Colonial Michilimackinac will take you all the way back to 1775, the time of the American Revolution, British red coats, fur traders, and forts. The site has been painstakingly recreated from historic maps and archeological finds and includes live reenactments of daily life from basic open-fire cooking demonstrations to real cannon and muskets firings. The site encompasses 16 buildings authentically refurbished and a variety of historic exhibits. The ongoing archeological dig is now in its 60th season.
For the more adventurous, Historic Mill Creek Discovery Park has lots to do and see at one of the region's oldest known industrial sites. For those that appreciate exercise, the Adventure Tour includes a trek over the Forest Canopy Bridge, followed by a trip down the 425-foot Eagle's Flight Zip Line, and then an exhilarating climb up the five-story Treetop Discovery Climbing Wall. If your group isn't up for that level of physical participation, there are live programs daily, historical and archeological exhibits, a movie detailing the history of the site, three-miles of breathtaking nature trails, and hand-on activities for young and old.
To round out your historical knowledge, you'll want to visit Old Mackinac Point Lighthouse, a beacon on the Straits of Mackinac constructed in 1889. All of the original buildings have been authentically restored, including living quarters. Among several different exhibits is the original lens from the great light that was first powered by kerosene, then incandescent oil vapor, and finally, in 1928, electricity. Rising 62 feet above the water, the tower and structures can be seen for miles and when lit, the light was visible for 16 miles. This beautiful and historic place is a must-see you won't forget.
Island Hopping
Before you leave Michigan's great north, consider a day on iconic Mackinac Island. Still a national treasure, Mackinac Island is routinely recognized as a top vacation spot around the nation and the world. Even so, it retains the simplicity and historical aura that makes it so incredibly special. With no motorized vehicles on the island, you will automatically relax and slow down while you enjoy all the history and natural beauty.
One place you will want stop on the island is another unique attraction, the Richard & Jane Manoogian Mackinac Art Museum, which contains "a rare and exceptional collection of Mackinac-related art and photography." The collection is vast and includes artifacts from local Native Americans, two centuries of maps, historic photographs, and art from the Victorian Era to today. The building that houses the collection is a museum in and of itself — the 1838 Indian Dormitory dedicates three floors to the museum's five galleries and art studio.
Of course, if you get to Mackinac Island, a visit to historic Fort Mackinac is also recommended. The oldest building in Michigan, the fort served as a center of commerce as well as home to soldiers and their families. Today, all 14 buildings are authentically refurbished and open to the public. Several exhibits are offered, as well as a movie and demonstrations by costumed interpreters. You might even get to fire a cannon!
These are just a few of the many fun options available for your group on its post-Labor Day trip north. Indian Trails has transported groups on trips all over the state and the country and are always available to help you plan yours. Find out more about Indian Trails charters and get a quote today!