There are few things that mesh as well as 'summer' and 'road trips.' Let's be honest, that feeling of being on the open road without a care in the world is quite liberating. Exploring new sites, experiencing new scenery, and taking in that fresh summer air. All play a role in the great American road trip.
But those picturesque road trips could also turn into nightmares. You could get stuck in traffic for hours on end, hitting rush-hour as your air conditioning decides to stop working. Or, you could get a flat tire in the middle of nowhere. These scenarios happen more often than you think.
So why not experience the open road in the comfort of a modern motorcoach? You'll be free from stressful driving, plus you get free Wi-Fi, power outlets, reclining seats, and more. There's nothing not to love about taking a bus trip this summer.
We thought we could help as you plan where to take your trip when the possibilities are endless; so here are five fun bus trips that you would love to take this summer.
*Disclaimer: These destinations are reachable by any of Indian Trails' connection points, not just the starting point listed. View our full map of the places you can go.
1. Grand Rapids, MI to Detroit
Take the trip from Michigan's second largest city to its biggest metropolis, passing the state's Capitol city of Lansing in-between. If you're a nearby resident of Grand Rapids, you're probably accustomed to great culture, amazing food, and world-renowned beer. We're here to tell you it's time to give your Eastside neighbor a visit.
Detroit is experiencing a renaissance of culinary magic. Its culture has always been outstanding, and the craft beer industry is booming. Plus (no offense to West Michigan) but Detroit does have the Lions, Tigers, Pistons, and Red Wings. You can visit all their homes, plus watch the Tigers live in action all summer long! Think about making a weekend out of Detroit. You won't regret it.
2. Lansing, MI to Traverse City, MI
Although Lansing has always offered plenty to do, the city will keep you busy with lots of good eats, plus a modern take on the brewery that supplied those who built the Capitol City. Not to mention, you can visit the Michigan State Capitol, Michigan History Center, Potter Park Zoo, and many more great places. So, spend a day in Lansing before heading north.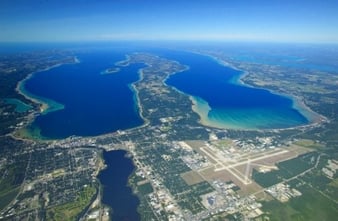 From Lansing, you'll encounter some gorgeous sights on your way to Traverse City, the cherry capitol of the world. You'll experience views that overlook the vast forests of northern Michigan and drives through towering trees. It's no secret that Traverse City is among the most beautiful cities in the state, if not the country.
Natural attractions like the Grand Traverse Bay or Sleeping Bear Dunes are enough reason to visit. But, Traverse City also has amazing festivals, downtown shopping, and a culinary and beer experience that's outstanding. There's always something to do — and the city is one of the most sought-after vacation spots in Michigan. And if you've never been to the National Cherry Festival, you need to experience it. We're not kidding.
3. Detroit to Chicago
A straight shot on I-94, a trip between the Midwest's two most iconic cities makes a fun weekend bus trip. By now you have a handle on what there is to do in Detroit, especially if you read our recent blog post on Detroit bus tours. So, let's skip right to the windy city.
There are few urban sites better than seeing Chicago's beautiful skyline begin to break the horizon as you head toward town (except for seeing it in the comfort of a bus, instead of in that hectic traffic). You know you're entering one of the best cities in the world: the hustle and bustle of this metropolis gets even the most well-traveled person excited.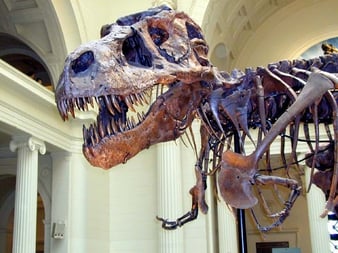 If you're a culture junkie, you can always visit the famous T-Rex skeleton (affectionately named "Sue") at The Field Museum, where new exhibits are always opening. If art is more your thing, The Art Institute of Chicago is an awesome museum, and is ranked the best museum in Chicago. Like to dream about the galaxy? Adler Planetarium always has shows and attractions that will amaze your brain. There are literally over 100 museums in Chicago, so you can customize your trip to whatever you're interested in — no settling needed.
For all the foodies out there, Chicago almost offers too many choices (almost). Luckily, Eater Chicago offers a play-by-play on everything from the top Italian beef sandwich spots to the best Mexican restaurants. There are also a ton of food tours you can take so check out Chicago Food Planet to plot your itinerary.
And don't forget about all the famous landmarks the Windy City offers. Millennium Park, the Riverwalk, and the Magnificent Mile are all popular spaces to explore. If you're looking for an aerial view of Chicago, be sure to check out the Skydeck in Willis Tower or the 360 Chicago Observatory, where you can catch amazing views of the city, Lake Michigan, and a few nearby states (yes, we're serious).
What are you waiting for? Book your getaway to Chicago today.
4. Marquette, MI to Milwaukee, WI
Consider a trip down the Lake Michigan coast from one of the coolest cities in the Upper Peninsula (UP) to Milwaukee, WI. Downtown Marquette is filled with plenty of things to do, including their art studios, restaurants, breweries, and shops. And, before you head south, check out Presque Isle Park, Sugarloaf Mountain, or one of the many nearby areas in the UP wilderness.
Milwaukee is known as the Cream City; and once you hit your destination, it's easy to see why so many love visiting. Milwaukee has all the amenities of the "Chicago's" of the world, but in a more comfortable, relaxed setting.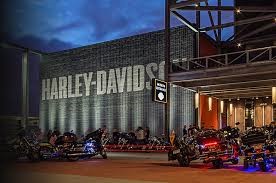 Visit the Milwaukee Art Museum and the famous Harley-Davidson Museum; or sample beer at the Miller Brewery Tour. Stroll down Milwaukee's own RiverWalk, or pick up some fresh produce, memorabilia, and other sundries at the Public Market.
Don't forget to check out some of Milwaukee's hottest restaurants during your trip, too – you won't be disappointed.
5. Detroit to St. Ignace, MI
The Mackinac Bridge and the surrounding area is consistently one of Michigan's top attractions. As most know, the impressive suspension bridge connects the upper peninsula (UP) of Michigan to the lower peninsula. To the east of the bridge is world-famous Mackinac Island.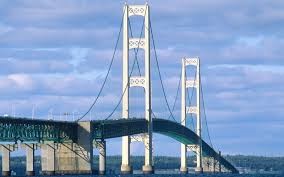 For city-slickers trying to get away from the hustle and bustle, you'd be hard-pressed to find a better vacation spot than the St. Ignace area. From Metro Detroit, the route meanders along Michigan's east coast — catching glimpses of beautiful forests, small towns, and Lake Huron. Once you cross the famed Mackinac Bridge, you are at your destination!
Stay near the lakes and relax at Straits State Park or Bridge View Park. Interested in hitting the town instead? Visit one of the many restaurants or gift shops along the main strip, and be sure to check out the Museum of Ojibwa Culture and Father Marquette National Memorial and Museum. Or, head a little further out of town to climb Castle Rock, a huge limestone stack that gives you amazing panoramic views of the Straits of Mackinac and the UP wilderness.
Feel like going to an island? Take a ferry from St. Ignace to Mackinac Island for the day! Ferries are usually full so don't forget to book your seats to get your ride to the island. Once you arrive, you can ride in a horse carriage or bike around the entire island, or you can shop 'til you drop in the numerous shops and galleries downtown.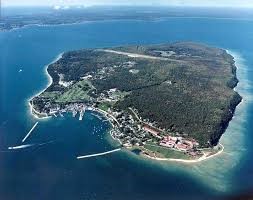 Want to see beautiful butterflies and insects? That can happen. And, if you're in for a climb, take the stairs up to one of the most beautiful areas of the entire island, Arch Rock. This spot is great for pictures and taking in all the beauty that the Straits offer.
Our buses have dozens of connections throughout Michigan and the Midwest, so the possibilities are endless! Planning a trip this summer? Take a bus and let us do the hard work while you just relax and enjoy the ride!